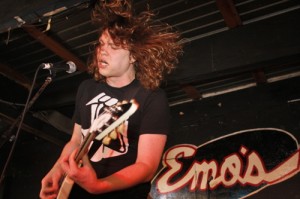 MEMPHIS, Tenn. – Musician Jimmy Jay Lindsey Jr., better known as Jay Reatard, was found dead in his Memphis home this morning, according to family and friends. He was 29.
Lindsey was found in his home on Meda around 3:30 a.m., Memphis Police spokesman Jennifer Robinson said. Friends said his roommate found Lindsey in bed.
Homicide investigators have opened an investigation into Lindsey's death, Robinson said. Such an investigation is typical for an unexpected death and doesn't necessarily indicate any evidence of foul play.
Friends say Lindsey had been complaining of flu-like symptoms lately.
The news shocked much of the Memphis music community, many of whom found out while they were attending the memorial service for soul great Willie Mitchell.
"It hasn't hit me yet. It's a major loss for me as someone who really loved Jay as a person and as an artist," said Scott Bomar, who has worked with Lindsey in the past.
Goner Records, which released some of Lindsey's records,  posted this statement on its Web site this afternoon: "It is with great sadness that we report the passing of our good friend Jay Reatard. Jay died in his sleep last night. We will pass along information about funeral arrangements when they are made public."
"We are devastated by the death of Jimmy Lee Lindsey Jr., aka Jay Reatard. Jay was as full of life as anyone we've ever met, and responsible for so many memorable moments as a person and artist. We're honored to have known and worked with him, and we will miss him terribly," Memphis Records wrote in a statement.
Lindsey emerged on the Memphis music scene as the leader of late-'90s punk outfit The Reatards. He and Trout co-fronted the cult-favorite synth-punk act Lost Sounds in the early portion of this decade. More recently, Lindsey had risen to international prominence in indie-rock circles on the strength of his recent solo releases. After a string of hot-selling singles on New York-based indie label Matador Records, he released the full-length album Watch Me Fall on Matador last August.
Tags:
Jay Reatard