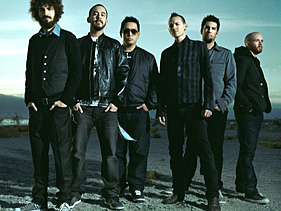 Last week, gamers everywhere thrilled to the new trailer for the upcoming "Medal of Honor," which was directed by Linkin Park's Joseph Hahn and features the band's brand-new single, "The Catalyst."
And while the trailer no doubt had "MOH" fanatics going crazy, it may have left LP fans feeling a bit confused. Because "The Catalyst" is undoubtedly unlike any song the band has ever released. A moody, synth-heavy, decidedly doomy rumination on the broken times in which we live, it seems to back up the group's claims that  its new album, A Thousand Suns, will be a drastic departure from anything the band have  done in the past.
And that, according to LP bassist Dave "Phoenix" Farrell, was precisely the point.
"We wanted a track that represented where the album was going to be and how it was going to work, and this was really the track to do that. … It's a risk, but it's worth it," he said. "We've known the album is going to be different, and if fans were expecting Hybrid Theory or Meteora, they're going to be surprised. It's going to take people some time to figure it out and know what to do with it."
Farrell wouldn't go into greater detail about just how the new album, due September 14, will differ from Linkin Park's previous efforts, but any fan with a pair of ears should be able to tell based on "The Catalyst" alone. The songs are bigger, deeper, decidedly weirder. And while Farrell didn't exactly back up frontman Chester Bennington's earlier claims that A Thousand Suns is a full-blown "concept" album, he didn't really deny them either.
"I've never liked the title 'concept record,' to me that holds up the idea of Tommy or The Wall. And I love those records, but this is not that," he said. "There are a couple threads that run throughout it, but, for us, the only concept is that it's not intended to be a collection of individual songs. It's constructed in a way and thought of in terms of 'How will it flow?' I would love … in this day and age, for our fans just once to sit down and listen to it from front to back. We want it to work as an experience."
And to that end, Farrell said the band always wanted to tie "The Catalyst" into a video game of some sort. The way the members  see it, it only adds another layer to the experience.
"I loved the old 'Medal of Honor' games, but since we've been working on the new album – and really, since I had kids – I've kind of hung it up for a while," Farrell laughed. "It sucks because now I have a younger brother who's 15 and when we play against each other, it's not even competitive. It's ridiculous. And it pisses me off. He's laughing and sh–. He's killing me with his knife."
Tags:
Linkin Park