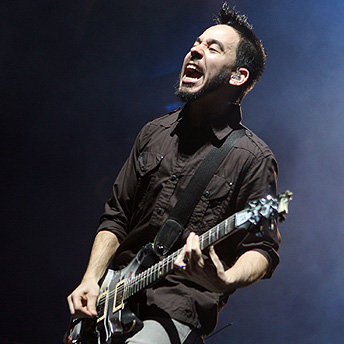 Linkin Park co-frontman Mike Shinoda said the band's fourth studio album is going to be so unique, "they're going to have to come up with a new genre name for what this record is."
Shinoda wants to shake things up in the rock world with the follow-up to 2007's Minutes To Midnight. Linkin Park is about halfway through the writing process and hopes to have the album ready for an early 2010 release.
But chief among Shinoda's concerns is the quality of the tunes, something that could impact the release date.
"If we need to take a step back and make sure everything is top, top quality by our standards, we will," he said.
And this time around, top quality means ensuring that the music is in line with Linkin Park's goal of breaking into a completely new genre. Now the band is especially conscious about moving past traditional fare and avoiding distractions on the album.
"Sometimes, there were different things that we got excited about on each record, about what we wanted to write and what we wanted to make and what kind of statement we wanted to make. On this record, we're definitely paying attention to the substance and the nuance, and we hope to make something that's really cutting edge and really different," said Shinoda.
Before the world gets another Linkin Park record, though, the band's other lead singer, Chester Bennington, plans to release his first solo project, under the banner Dead By Sunrise. In addition, the band is currently collaborating with legendary composer Hans Zimmer on the score to Transformers: Rise of the Fallen (Zimmer offered the band this job after it contributed a song, "New Divide," to the Transformers soundtrack).
Back to the new LP disc: Shinoda said the record is not what he would describe as a concept album, but nevertheless has some cohesive elements.
"This isn't necessarily a record that tells a story about a character or anything like that, but I do hope the record has a sonic identity, from beginning to end, that's distinguishable from the other stuff we've done and distinguishable from everything else out there. I would love, at the end of the day, to be able to look at this record, and say its something totally new, totally true to the spirit of the band, and it doesn't sound like anything else. That's what we shoot for."
He added he has been writing material for the album for months now, mostly while the band has been on tour in Europe and in the US, and that he plans to take some of his "Fort Minor energy," and dump it into the LP album.
"I really want a record that sounds different. I would love for this record to be something that has its own identity, and can't easily be connected to anything else," he said.