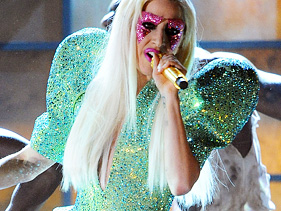 LOS ANGELES – Rumors that Elton John would join Lady Gaga to open the 52nd annual Grammy Awards came true Sunday night.
John joined Lady Gaga onstage, as the duo kicked off the Grammy telecast with a torchy duet, complete with ashes, severed limbs and some seriously flashy jewelry.
Gaga opened things up in her own over-the-top manner. As the curtain went up, viewers saw a full-blown stage set – "The Fame Factory" – an army of dancers and a master of ceremonies, which emerged from the crowd to tout Gaga as some kind of living doll.
"The real Gaga comes complete with five No. 1 singles," shouted the army, "And she has no soul!"
Then Gaga appeared, decked out in sparkly shoulder pads, and belted out a cabaret version of one of those No. 1 singles, "Poker Face." She then leapt down from her perch and launched headlong into a full version of the song, flashing her "monster" claw and trading moves with her backup dancers.
One of those dancers then dragged Gaga off the stage, and she was dumped into a "rejected" bin, which belched flames and deposited her out of view.
Seconds later – now covered in ashes – she appeared again, this time sharing a piano with John, who was also covered in ashes. The two then began singing Gaga's "Speechless," trading verses and glances from across the piano, which was topped with severed mannequin arms, also flashing her "monster" hand sign.
John managed to work in a few verses of "Your Song," his massive 1970 hit with songwriter Bernie Taupin before Gaga rejoined to conclude the collaboration. She segued back into "Speechless" and wrapped it up smiling.
The house applauded the duo with a standing ovation.
Tags:
Elton John
,
Grammys
,
Lady GaGa