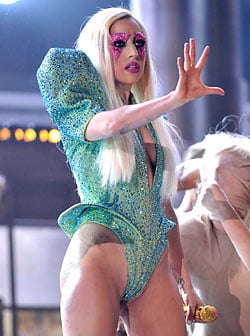 All eyes on the  red carpet  at  Sunday's Grammy Awards  went straight to Lady Gaga and her solar-system gown that was totally out of this world.
Lady Gaga has become fashion's favorite chameleon and she didn't disappoint with this shiny, silvery, three-dimensional number that was created in collaboration with  Giorgio Armani. She then opened the show in a green fairy-wing bodysuit – with matching green sparkle booties, of course.
"I am honored to be wearing Armani this evening. The series of pieces Mr. Armani created for me are truly iconic; they represent not only beautiful fashion, but my spirit and essence as an artist," she said in a statement.
Fergie, in an electric blue  Emilio Pucci  strapless dress with a swath of silver snaking from her shoulder to the high hemline, along with the other  Black Eyed Peas, continued the galactic vibe set by Lady Gaga. Heidi Klum  also had a futuristic twist to her nude-and-rose Pucci micromini with splashes of silver, and  Jennifer Hudson  captured that spirit with the geometric, clear plastic bracelets she wore with her short, banded black dress by  Victoria Beckham  that had an open neck, nipped waist and peplum.
Hudson,  Beyonce  – who wore a strong-shoulder, mermaid-hem gown in gray that had just the right amount of decollete – and  Taylor Swift– in a Kaufmanfranco sequin-covered, off-the-shoulder gown in midnight blue – all hit a balanced note between style and the sophistication that comes not with age but so many red-carpet appearances.
Rihanna's high-neck white gown with cascading ruffles and emphasized hips by  Elie Saab  was sort of a modern take on old-world  Victoriana.
Other outfits on parade outside the  Staples Center  in  Los Angeles  that deserved notice included  Jennifer Nettles  of  Sugarland  in a chic coral-and-black gown by Victoria Beckham that fit her like a second skin.
Katy Perry  made her statement with hot pink lips but her champagne dress with gold-and-pearl floral embellishment by Zac Posen was understated and elegant – at least by Grammy standards.
Toni Braxton  wore a dove-gray, one-shoulder gown by  David Meister  while  Melanie Fiona  also did the asymmetrical top, but hers was black and had a pouffy black trumpet skirt by  Christian Siriano.
"It made me feel like old Hollywood," she said. "It's classic, like I think my music is."
Sunglasses and black are always popular with the music crowd, and  T-Pain  in his blue aviators and Adam Lambert in his flashy black jacket with  Johnny Cash-style black tie were among those to move them forward – even if they both looked like they tried a little too hard.
Britney Spears  wore a black lace dress with black bodysuit by  Dolce & Gabbana, and Ciara wore a black lace jumpsuit and crystal studded jacket with tails and shoulder pads by  Givenchy.  Nicole Kidman  wore a movie star-worthy black Prada gown with a halter neckline.
Jennifer Lopez, who had one of the most famous Grammy fashion moments in a plunging-V gown back in 2000, again wore Versace, this time a silver chain-mail dress with white chiffon overlay.
There was also a strong showing of gray, which is sort of unexpected considering the crowd.
Miley Cyrus  did a steely long-sleeve minidress and  chunky heels, and Pink wore a gray-to-black ombre gown with a jeweled neckline and waistband. Her super-short hair highlighted her other bling:  diamond bracelets, pendant-drop earrings, pave ring and hair brooch, all by Neil Lane.
Keri Hilson  complemented the crystal waist on her blush-colored Dolce & Gabbana strapless with a huge Neil Lane cocktail ring.
Carrie Underwood  pulled off the fashion-forward cutout look in an asymmetrical white gown with silver leather stripes across the bust and shoulders by Georges Chakras, and  Mary J. Blige  did the same in her slashed-top hot pink gown.
Common said men don't feel as much pressure to wear a show-stopping outfit as the women do, but they still want to look good. "It's a time when the world is looking at the music world, at the artists, so you want to look fresh," he said, rocking a plaid suit and polka-dot scarf.
Usher put his own spin on the three-piece beige suit; his Armani had white piping that he paired with a checkerboard shirt.
Teen sensation Justin Bieber brought his two worlds together in Dolce & Gabbana and Vans, and  Jason Mraz wore an eco-friendly tuxedo made from recycled polyester and a tie made from old cassette tapes. "If you put this in a machine, you can hear past Grammy winners," he said.
Tags:
Adam Lambert
,
Beyonce
,
Britney Spears
,
Carrie Underwood
,
Ciara
,
Grammys
,
Jason Mraz
,
Jennifer Lopez
,
Johnny Cash
,
Justin Bieber
,
Katy Perry
,
Lady GaGa
,
Mary J. Blige
,
Miley Cyrus
,
Rihanna
,
T-Pain
,
Taylor Swift
,
Toni Braxton
,
Usher