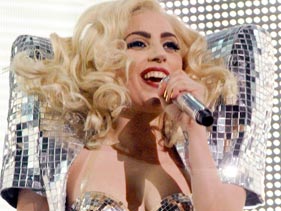 This June, Lady Gaga will be heading back to North America for a nearly three-month leg of her Monster Ball Tour. The pop princess, who just released her epic video for "Telephone," will kick off this leg of her tour on June 28 in Montreal. Tickets go on sale beginning  March 19.
Gaga's first arena tour, sponsored by Virgin Mobile, includes 31 shows throughout Canada and the U.S. through the summer, ending on September 19 in Raleigh, N.C. According to a press release, Gaga plans to make this leg of the tour "even more eye-popping" than the first.
Last week, Gaga's label, Interscope Records, told MTV News that "there are talks about a 3-D concert and DVD in the near future."
Before Gaga returns to North America, she will play 10 dates in Europe, wrapping up on June 4 in Sheffield, U.K. Longtime pals and roadmates Semi Precious Weapons are opening for her.
As for this next leg of the tour, promoter Live Nation's global touring CEO Arthur Fogel said in a statement, "Lady Gaga has set out to revolutionize pop music and with her new production she continues to do exactly that. We're thrilled to take the Monster Ball to fans around the world."
Tags:
Lady GaGa