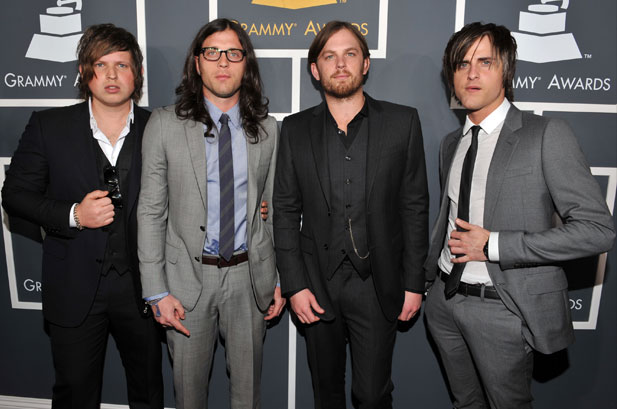 Kings of Leon is "almost finished" with its fifth album, the follow-up to 2008's platinum and Grammy Award-winning Only by the Night, according to drummer Nathan Followill.
During a conference call with reporters to promote this year's Bonnaroo Music Festival, which Kings of Leon will headline on June 11, Followill said that the Nashville quartet and its producers, Jacquire King and Angelo Petraglia, "did a majority of the album in New York City and decided to come home to do the last couple of weeks just to fool around and do it at home."
The results, he said, have been somewhat surprising.
"Honestly, with the success of the last record…a lot of people thought we would put a lot of pressure on ourselves and go in there and try to recreate what we thought was successful on the last record," Followill noted. "It's the first time we've ever recorded in New York City, so we thought we'd come out with a little darker record 'cause we'd done all our other records in either Nashville or L.A., where it's a little more chilled out, not as much hustle and bustle.
"And I'll be damned if we didn't go in there and make a fun record. It's got songs that are beachy. It's got songs that are a little more of our 2003 debut album Youth and Young Manhood days — pretty much all across the board. We're super excited. Everything, we feel, fits perfectly for this project. It'll be interesting to see how well-received it is."
Followill said he expects the group will play some of the new songs during its summer North American tour, which begins June 5 in Atlantic City and is bisected by a pair of V Festival dates during August in the U.K.
"Any time you're coming into a tour after a new record, especially one that's not even out yet, it's pretty tough to not play the whole thing," Followill said, joking that, "we might force the label to release (the album) earlier than they want to."
The album is currently untitled and has no firm release date.
Followill also said that he's looking forward to this year's Bonnaroo gig for a couple of reasons. One is playing so close to home, where friends and family will be able to witness the band's success as it plays on the main stage.
"Four, five years ago we would come home and tell 'em how big of a festival we played in Europe and other countries, and they'd always be like, 'Yeah, right, whatever. Good for you guys…' " Followill recalled. "I don't think they ever believed us. This'll be the first time a lot of our families and friends will see us on this level. It'll be interesting to see if their Christmas present demands get any more expensive because they see the level we're at."
Followill is also looking forward to playing the festival on the same day as his wife of six months, singer-songwriter Jesse Baylin.
"I think I'm going to play the role of supportive husband and be singing harmonies under my breath on the side of the stage," Followill predicts. "She just finished off a new record that's kick-ass, so I'll be interested to see how the new stuff comes off. There's a chance she might play Saturday, too, so I might hop up on the bongos or something."
Tags:
Kings of Leon