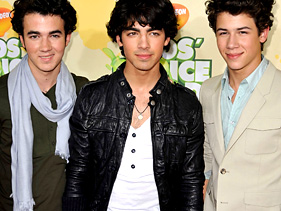 They may have only been up for one award on Saturday night at the Kids' Choice Awards, but the night definitely belonged to the Jonas Brothers. A who's who of teen stars were on hand at the 22nd annual awards show, hosted by Dwayne Johnson.
The first award of the night, Favorite TV Show, was handed out by Ben Stiller and Owen Wilson and went to "iCarly."
"We wouldn't be up here without you guys," the show's star, Miranda Cosgrove, told the super-excited crowd.
Tons of celebs made appearances throughout the night, like Favorite Male Singer winner Jesse McCartney, Will Ferrell, Sandra Bullock and Hugh Jackman, all of whom got slimed, a time-honored KCA tradition.
Although she wasn't there to claim her Blimp, Selena Gomez won Favorite TV Actress for her work on "Wizards of Waverly Place." Keeping the girl power alive were the Pussycat Dolls, who didn't win any Blimps but did perform "When I Grow Up" and their version of the "Slumdog Millionaire" anthem "Jai Ho."
Vanessa Hudgens, Zac Efron, Corbin Bleu and Ashley Tisdale were there to accept the Favorite Movie award for "High School Musical 3: Senior Year." Hudgens also took home a Blimp for Favorite Movie Actress.
"A quick shout-out to Lucas [Grabeel] and Monique [Coleman]. We love you guys," Efron said to his missing castmates while accepting the award. "Thank you all for embracing 'HSM.' We love you guys."
It was cute boy overload as Efron presented the award for Favorite Music Group to the Jonas Brothers.
"Thank you guys so much," Joe said, before Nick added, "It's been amazing. We've enjoyed the ride thoroughly."
More swooning ensued when "Gossip Girl" heartthrob Chace Crawford announced the JoBros' performance. They rocked the crowd and made girls scream when they performed "S.O.S." and "Burnin' Up."
There was also love for "Twilight," which won for Favorite Book.
"This is awesome," Taylor Lautner told the crowd. "Stephenie Meyer wanted to tell you guys 'thank you.' And I can tell you firsthand you guys are gonna love [the 'New Moon' movie]."
Leonardo DiCaprio won the most serious award of the night, taking home the Big Green Help Blimp for inspiring people to be more proactive in saving the environment. And although Miley Cyrus was up for a slew of awards, she only managed to win one for Favorite Female Singer.
While hugging her Blimp and fighting back tears, Cyrus said, "I really thought I was going to lose."
The night came to an end with Johnson fulfilling his assigned task of finding the right key to make the volcanic slime pyramid explode. What was that key? The Jonas Brothers singing "Lovebug." Other big winners of the night included "American Idol" for Favorite Reality Show, Will Smith for Favorite Movie Actor and past KCA host Jack Black for Favorite Voice in an Animated Movie.