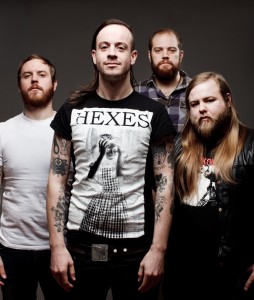 Recently idobi staff writer Alex Mosie had a chance to ask Cancer Bats vocalist Liam Cormier a few questions.   Read the interview below to hear Cormier discuss touring life, the bands' new album, Bears, Mayors, Scraps, and Bones, and small business accounting courses.
idobi: You've got a tour coming up with fellow Canadians 3 Inches of Blood, how did that tour come about? Have you known those guys for a long time?
Liam Cormier: We've known those dudes for a super long time and have talked about touring [with them] forever. Last year we played in Whistler, British Columbia  with Against Me! and 3 Inches of Blood and the show was awesome! That's when we decided we had to put together a full Canadian tour.
You've been touring consistently for years, how do you keep things fresh for fans, and for yourselves?
We try to change up our set as much as we can to keep things fresh for kids who come out all the time.   For us touring, we're always playing in different countries and the shows are always completely different from night to night. That always keeps it fresh and fun for us.
Your latest album, Bears, Mayors, Scraps, and Bones, which earned you a 2011 Juno Award nomination, just passed the one year anniversary of its release. Did you do anything fun to celebrate?
We were on tour over April so we just celebrated it the same way we celebrate every day! [We] played an awesome show and had a ton of fun with some wicked kids in Poland! That show had more stage dives than I've ever seen at a Cancer Bats show, it was insane.
Have you started writing your fourth album yet? When can fans expect new music?
We haven't jammed at all for the new record but Scott and I have been writing some songs on our own. When we finish tour in July we're going to hit it hard and bang out [the fourth album] this summer. If all goes well we should have a record out in early 2012.
You've also got a re-issue of your debut album, Birthing the Giant, about to come out next month. Why did you choose to re-release the first album now? What was it like to go back and revisit that album?
We all love vinyl and have wanted to press Birthing the Giant to vinyl since it came out in 2006. We pressed Hail Destroyer to vinyl in 2009 and we had planned to do Birthing ourselves but it was just a matter of getting the money together, and then we got caught up writing Bears and doing everything for that record. So now, finally, five years after it came out we've gotten our shit together to press it to vinyl [laughs]. I'm super stoked to have them ready for the Canadian tour in May, they're going to look sweet with gold vinyl and a huge gatefold for the art. Stoked.
Have your own musical tastes changed since you first formed the band? Do you think that it has affected the Cancer Bats' sound?
I don't think our tastes have changed too much since starting the band. We're all older dudes with a huge range of musical taste and, in a lot of ways, set in what we like at this point [laughs]. I think the sound of Cancer Bats has broadened over the years as we've realized our fans have the same broadened tastes as we do.   People seem to be up for as many different styles of playing as we are, which rules because I love playing stoner jams straight into some good ol' thrash.
You've stayed with the same label for all of your albums, who also happen to be located in your hometown and represent a number of your finest peers. What is your relationship like with Distort? How did you first get involved with them?
We love working with Distort! The owner Greg has been a long-time friend and has been stoked on our band since we gave him our first demo. Everyone who works there is rad and we always go and hang out whenever we're back in town.   The best part about working with Greg is that he doesn't care if we're on the radio or our album has a single or anything. All he cares about is our albums being heavy. He's also been asking us to cover Entombed since we've started.
You started out like many bands, a certain level of DIY, hand-cutting your 7" packaging, etc.   How were you able to step things up to the next level? What do you wish you had known then that you know now?
We're still hand making our 7"s! [laughs] On this tour, the cover art wasn't finished yet so I had a hundred records with no covers. I ended up making covers out of a German pornographic magazine. They turned out pretty cool with each cover being different. Fun art project. But aside from that we've always just tried to work hard and tour as much as we can. For us spreading the word through tour has always been our way of doing things. All of us grew up in the hardcore scene and that was the only way you could make your band work was by playing in front of people.     So we just knew that was what we had to do in order for the band to work.
If I could go back in time I would have taken small business accounting courses. You never start a band thinking it's going to become a business. You start a band because you love playing music and then you learn all the business stuff through making mistakes and playing catch up. I don't really regret learning that way, hindsight is always 20/20.
You have a large international audience and have played festivals all over the world- where would you like to tour that you haven't made it to yet?
I really want to play in South America super bad! We get messages all the time and meet kids from Brazil and Chile who tell us all the time how they have so many friends back home who want to see us. I've seen videos of shows down there and it looks like the craziest shit ever! Hopefully it'll work out someday soon!
Tags:
Cancer Bats