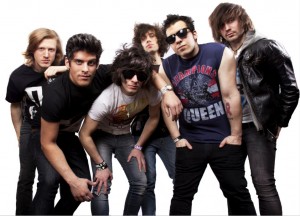 In a recent interview, Anthony Rainville, vocalist of the Boston, MA pop-rock group Stay, discusses their upcoming LP American Cherry Bomb, the band's recent rise in popularity, playing Never Say Never Festival and more.
Idobi: How have things been going lately?
Anthony: Things have been great lately thank you! Very busy!
What is new with Stay since the last time idobi has been in touch with you?
I think the last time we were in touch we were finishing up some touring? After that we really buckled down and started demoing out songs for what we decided would be our first full length record.
You guys recently completed your debut full-length, American Cherry Bomb, how was that?
So stressful! Haha it was definitely one of the most challenging things I've ever done creatively but it made it that much more rewarding to finally finish and have it turn out so incredibly well. I know we're all stoked on it and it's definitely something we're all extremely proud of.
Where was the album recorded and who produced it? What was the process like, and why the decision to go with this producer?
We recorded the album at Nada Studio in New Windsor, NY with producer John Naclerio. The process was definitely a little stressful as we were still finishing up some songs while we were in the studio. Otherwise it was really fun and really laid back. We stayed at a motel near the studio for the month so a typical day involved waking up at like 11:30, recording from noon till ten at night and then heading back to the motel where we'd stay up too late, drink cheap beer and then try and do it again the next day. We did that for about a month straight with maybe 21 days or so of recording? The reason we decided to go back to John was because we loved working with him on our previous EP, "Games With Girls", and already having that familiarity with him made the decision a lot easier because we already knew we'd be comfortable and that it would come out good. It's really nice kind of having an idea of what to expect.
How does it feel to finally be so close to releasing a debut LP?
It feels great but it's also definitely nerve racking at the same time because you're not sure how people are gonna react and you just want everyone to really like it. I'm really excited to get out on the road and start playing it for people though. Hopefully everyone digs it as much as we do!
After gaining more attention in publications such as Alternative Press and Seventeen, as well as many areas of the Internet, is there an increased sense of pressure? Is this a good thing or a bad thing?
Honestly, the only pressure I feel right now is self-imposed. I really want to do better and better as a band and as a songwriter so that's really where 90% of the pressure I feel comes from. I feel pressure to top my last release and to be the best I can possibly be. I also really want to make people happy that listen to us and constantly exceed their expectations. It definitely gets tough because ultimately your job is to please as many people as humanly possible.
What were some of the main influences for the album, both musically and lyrically?
I think some of my biggest influences for this record musically and lyrically were bands like Third Eye Blind, Fall Out Boy, and You, Me, and Everyone We Know. We were also on a huge Death Cab for Cutie and Beatles kick during that month too? So it's really varied for me. I love SO MANY bands and I know they've all had an affect on me and the way I write music. We also feel like we really stepped it up lyrically from the last record and taking on things like, sex, religion, the music industry, and doing what you love and trying to stay sane while doing it. It's definitely a progression for us. Andrew and I basically split writing the lyrics on the record and it's some of the best shit I've ever heard him put down so it's definitely an honor to be working with someone you also really respect as a writer.
Since the last time idobi spoke with Stay, some new members were added. For those who may not know, can you explain the decision to add two new members to the group?
The decision to add new members pretty much came out of necessity for us and I honestly couldn't be happier about the new additions. Being in a band isn't for everyone so there were some people who decided to not continue with Stay and we knew we wanted some permanent members instead of just touring musicians. So we added some of our good friends who we'd been playing in bands with for years and it was immediately a perfect fit for all of us. Nick Crist is now playing bass for us, Alex Gaynor is on lead guitar and back up vocals and Andrew Elliott is actually a former member who we asked to re join the band and he now plays guitar with us. I'm really just beyond happy with everyone I get to be in a band with now.
Back to the album, the official track listing for American Cherry Bomb was recently released. How has fan response been to news of the new material been?
I think the reaction to the news of new material has been really good so far. We recently released a teaser for the album on YouTube and from what we can tell people seem stoked so that's good enough for me. We're starting to get ready for the release so we're crossin' the fingers that's it's received well!
When can fans expect to hear some of the material from the album?
Really soon! We're actually going to be premiering three or four brand new songs this February on some of our favorite websites so I'm really stoked for that and everyone should definitely be on the lookout for those!
What are a few of your favorite songs from the new album?
I think definitely the opening track "Motor City", the title track "American Cherry Bomb" and "Machine Gun Summer" are some of my favorites and I really can't wait for people to hear them!
Stay was recently announced to perform at Never Say Never festival in March. How did that come about, and how stoked is the band for that?
I believe we just reached out and after a couple of emails back and forth we convinced them to let us play haha. And we're crazy stoked! Not only do we get to play an amazing festival with amazing bands we also get to play with and hang out with our friends from literally every tour we were on with this year! Everyone from You, Me, and Everyone We Know, Breathe Electric, and We Are The In Crowd to the Down With Webster dudes. It definitely should be an incredible couple of days and definitely something we're wicked looking forward too.
That is currently the only tour date listed for the band. When will the band be announcing more tour dates?
We're going to be announcing an entire two month tour, about 60 dates, really soon! This will be the first tour supporting the record and the announcement should happen early February when we announce a release date for our record.
Why should potential fans check out the new album?
Potential fans should check out the new record because it's just bad ass the whole way through. We made a record that doesn't let up the entire time and it's also pretty varied so you're not just listening to the same song over and over. But it still sounds like a cohesive record.
Anything else you'd like to say?
Make sure you pick up our new record, American Cherry Bomb, which you can get with bonus content exclusively on our tour this March and April! Thanks so much for the interview!
Be sure to check out Stay on PureVolume.
Tags:
American Cherry Bomb
,
Never Say Never Festival
,
Stay