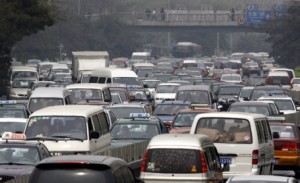 Traffic authorities were still struggling to cope with days-long congestion on a major national expressway, nine days after traffic slowed to a snail's pace, and nearby residents are profiting on the latest traffic snarl by overcharging drivers for food.
Since August 14, thousands of Beijing-bound trucks have jammed the expressway again, and traffic has stretched for more than 100 kilometers between Beijing and Huai'an in Heibei Province, and Jining in Inner Mongolia Autonomous Region, China National Radio (CNR) reported Sunday.
Small traffic accidents or broken-down cars are aggravating the jam, the report said.
"Insufficient traffic capacity on the National Expressway 110 caused by maintenance construction since August 19 is the major cause of the congestion," a publicity officer with the Beijing Traffic Management Bureau, told the Global Times on condition of anonymity Sunday.
Under current traffic regulations, the National Expressway 110 (G110), heading northwest from Beijing to Zhangjiakou in Hebei Province, and then heading directly west, is available to trucks with a carrying capacity of eight tons and above. The road suffered serious damage due to the greater volume of heavy trucks.
This month there have been more trucks carrying excessive coal or fruit, but the Beijing section of the Beijing-Tibet Expressway is available only to trucks with a weight of less than four tons.
The congestion is expected to last for almost a month, since the construction is due for completion September 13.
Traffic congestion and  road safety have become major concerns for  Chinese motorists.
For drivers, suffering the congestion on the Beijing-Tibet Expressway is nothing new. In a similar scene this July, traffic was also reduced to a crawl for nearly one month.
Some killed time by playing cards, while some could only wait idly by.
In the latest bout of congestion on the Huai'an section, a truck driver surnamed Huang, told the Global Times that he suffered "double blows."
"Instant noodles are sold at four times the original price while I wait in the congestion," he said.
"Not only the congestion annoys me, but also those venders," he joked, calling for help with their lives on the road.
Wang, driving from Hohhot to Tianjin in a coal truck, had been on the Huai'an section for three days and two nights.
"We are advised to take detours, but I would rather stay here since I will travel more distance and increase my costs," Wang said.
"The number of roads from northwest China to Beijing are limited," he complained, asking "Why should I pay the toll fee?"
The Beijing-Tibet Expressway and the G110 are two of the major routes leading to Beijing.
Some people joke about the enduring congestion on the Beijing-Tibet Expressway, saying "concerts should be held at each congested area every weekend, to alleviate drivers' homesickness."
"We've already sent traffic policemen to work on the traffic congestion," the unnamed official at the Beijing Traffic Management Bureau told the Global Times, adding that traffic police would stay to guide the traffic 24 hours a day until the problem is solved."
About 400 traffic police officers have been on duty to maintain order and to prevent further accidents.
Some critics attribute the worsening congestion to poor road planning and unsuccessful regulations.
"If there's no traffic jam in the city, that would be news," said Niu Fengrui, director of the Institute for Urban and Environmental Studies at the Chinese Academy of Social Sciences.
"Our government should pick up the pace of urban infrastructure construction and spend some of its budget," he said.
Tags:
China
,
lol
,
traffic jam