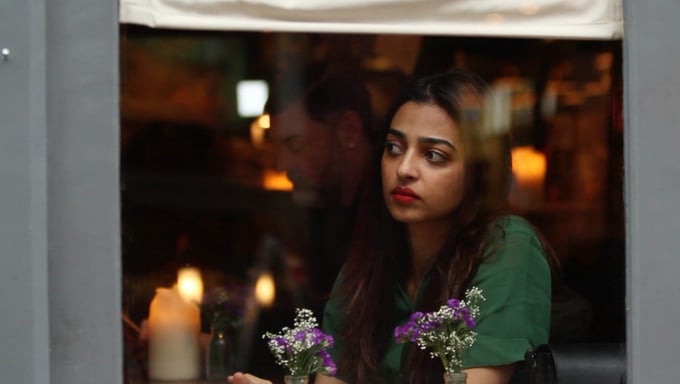 London has one of the most exciting and diverse film communities in the world. But that comes at a price. Playwright and prose writer Sharmila Chauhan's short film, Oysters, was commissioned by Film London back in February–and she and her talented and diverse all-female team need your help to finish funding it.
Oysters is a complicated and thought-provoking love story which follows the lives of Sheena and her sister's ex-boyfriend, Javed; after her sister passes away, the story looks at the complex relationship with grief, and the pair's mutual attraction. Set in the heart of London, this is an intimate exploration of British Asian life. Geek Girl Riot is all about this project, and you can get on board with us by watching a clip about the film below, donating, and spreading the word.
Produced by Emma Duffy, and directed by Pratyusha Gupta of Portmanteau Pictures, the film was one of only five films to be backed by Film London's London Calling Plus scheme, which aims to support unique, emerging voices in British film.
Backers will receive numerous perks, ranging from special thank you mentions in the film credits, signed posters, exclusive early screenings, to joining the cast and crew at the wrap. But most importantly, helping to fund this film will help to bring what's sure to be a brilliant film to life.
—
More about the story:
When Sheena contacts Javed after many years of silence he cannot resist her invitation to dinner. At the restaurant, the tension between Javed and Sheena, his ex-girlfriend's sister is palpable. Heavy drinking ensues. Sheena orders oysters and the night seems full of promise. But when Sheena rebuffs Javed's advances, he is angered and confused and storms off. A chance meeting later that night on the last tube forces them to really face their mutual past and attraction to one another.

The script explores the relationship between loss, love and truth; like the 'love triangle' in the film, these themes are also inter-connected. There are a lot of blurred lines in the piece; attraction and love, pleasure and pain, a moment and an eternity all heightened by death. The main motif through the piece is the oysters. They represent quite simply death and life, but are also a metaphor for passion, flirtation and sexual charge. Symbolically in the film they represent Maya – Sheena's late sister – the indelible link between Sheena and Javed.
Tags:
Geek Girl Riot
,
GGR
,
Oysters