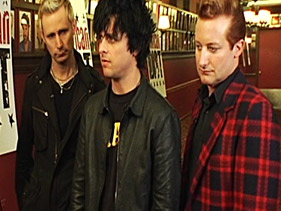 Green Day has already begun work on its followup to 2009's 21st Century Breakdown, frontman Billie Joe Armstrong revealed to Kerrang! magazine.
"We did some demos in Berlin, some in Stockholm, some just outside of Glasgow and some in Amsterdam," Armstrong told the magazine. "We wanted to get the songs down in some early form."
The band  is looking to get something out sooner rather than later, a far cry from the more than two years the members spent working on Breakdown.
The new album is shaping up to be a "back-to-basics" sort of affair, the band told MTV as it watched "American Idol" premiere on Broadway.
"It's just been songwriting right now. Instead of doing it later on, we decided to start doing stuff now. … It's all back to the basics again. Just getting in a room together and start jamming," Armstrong said. "We set up all of our old gear, which was like an experiment. We set up all of our equipment from 1992, and we sat in a room. We got in, and I was like, 'Come on, guys, we're getting back in!' and I start playing and go, 'This sounds like sh–!' Everything sounded so bad."
"Me and Tre Cool were looking at Billie going, 'Really, you've got to pull out that POS amp?' " bassist Mike Dirnt said laughing. "I mean, it really sounded like crap."
No one knows for sure whether the new Green Day album will be a return to  its punk past. As Armstrong pointed out, the finished album is still a ways off, and it's too early to see how it's going to turn out.
"It's still really early," he said. "We've got to start translating the songs and explaining the songs, and the next step will be arguing about the songs."
Tags:
Green Day