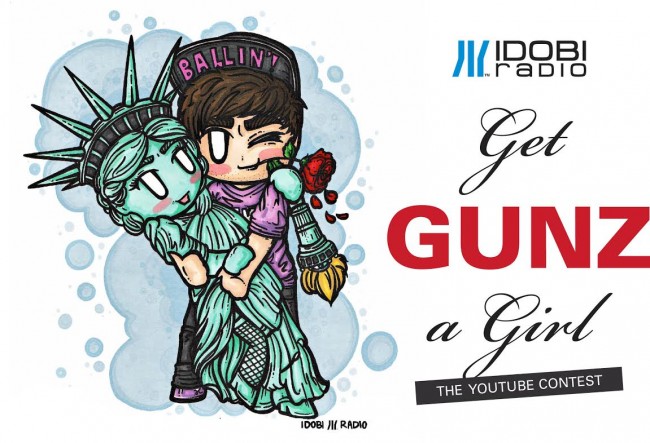 SPONSORED BY:
Wind & Fireâ"¢ Jewelry,  Glamour Kills Clothing,  Clinton Street Baking Co.,
cocoa bar,  Rizzo's Fine Pizza Co, and Mexican Radio
Hey girl, if you're looking for a perfect New York fairytale with a romantic comedy soundtrack…well, we've got the soundtrack covered. If you want to be a Cinderella who's "ballin'!'" idobi Radio has the guy for you.
idobi Radio's most eligible outrageous bachelor, Mike Gunz, wants to take you out – not mafia style – on a date. When he's not jump-starting your mornings as a FOX/WABC television shock jock, he enjoys long romantic walks on the beach to the Jersey Shore, candlelit dinners takeout, and curling up with a nice book hangover. And he's a total 2-in-1, a backstage pass to all your favorite shows and a boyfriend in one convenient package. AND, as if this isn't enough, we're offering up a ton of great prizes to sweeten the deal, including a romantic getaway.
Wait, there's more…to Gunz, we mean. He's always up for fun times, but there's another side to him:
"The beauty about music is that no matter what situation you're going through–there's always a song out there that you can relate to. Whether it's a death of a family member, or a beginning of a relationship, music can be that one relationship that you can count on to never abandon you."

– Mike Gunzelman
Finalists have been announced.
Prizes:
Top Ten win iTunes gift cards
Top Five win free nights on the town with Gunz + gifts
(all dates will be filmed and aired on the idobi YouTube Channel!)
The Runner-Up will win a "Girls Night In" package for three
(red wine, two DVDS, pizza, ice cream, and Snuggies)
The grand prize is a getaway to Somewhere Sunny, USA/Caribbean with 
(or without) Gunz.
Think you've got what it takes to ball with the baller himself?  Go for the Gunz!
SPONSORED BY:
Wind & Fireâ"¢ Jewelry,  Glamour Kills Clothing,  Clinton Street Baking Co.,
cocoa bar,  Rizzo's Fine Pizza Co.
More about the real Mike "Gunz" Gunzelman
Broadcasting live, from high above Madison Square Garden, Mike Gunz is the host of idobi Radio's THE GUNZ SHOW, and is a daily cast member on television show IMUS IN THE MORNING. A double major in broadcast journalism and political science from Fordham University in New York City, Gunz has appeared on FUSE TV's "The 'F' List," "Daily Download," "IMX," as well as MTV2′s "MTV Rock," MTVu's "The Dean's List," and various other television shows as well.
Tags:
Get Gunz A Girl
,
The Gunz Show