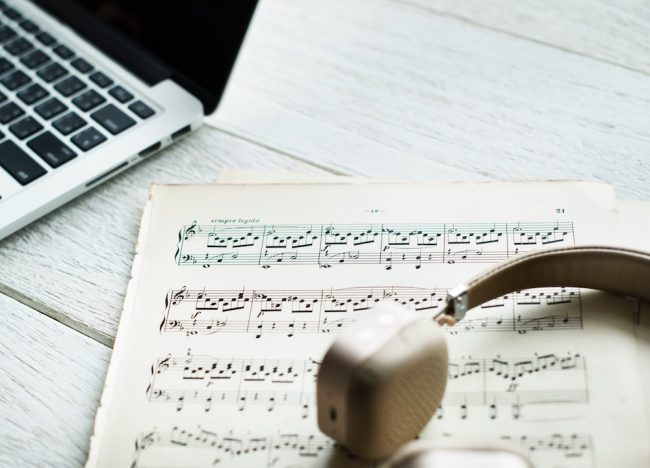 What better way to kick off 2019 than with new music? Fridays are always chock full of the latest songs and albums ready to be the soundtrack to everyone's antics, and here you'll find some of the week's standout releases. Whether you're ready to spin an anticipated song from a favorite artist or just taking a look at what's out there, there's a whole lot of tunes to dive right into. Who knows—maybe you'll find your next obsession.
Bring Me the Horizon
"Medicine"
Morphing from metalcore marvels to pop juggernauts, Bring Me the Horizon is showing that they're the jack-of-all-trades with the third song off their upcoming album Amo. "Medicine" drives home the fact that the band will have no problem sitting next to some of the biggest names in music on the top of the charts if the rest of the record follows the quality of this track. With a Grammy nomination already under their belts, the band might want to start making space in their award cabinet.

Set It Off
"Midnight Thoughts"
Starting the new year off right, Set It Off technically…probably…released the first ever song of 2019 when the aptly-titled "Midnight Thoughts" hit streaming services right as the ball dropped. Despite the number on the calendar there's no "new year, new me" here—the band picks up right where they left off in 2018 as they prepare to drop what should be their strongest full-length yet in February.

Our Last Night
"When the Party's Over"
Cover kings Our Last Night give a serious makeover to Billie Eilish's melancholy ballad "When the Party's Over", as they incorporate screams and roaring riffs to what is originally a very tranquil track. Still, despite the differences, the band manages to capture what is so inviting about Eilish's song in the first place—the vocals. While not exactly emulating her near-whisper-esque vox, frontman Trevor Wentworth shifts dynamics when needed to make for a solid remake.

Christina Perri
"A Thousand Years (Lullaby)"
Having a musician mom has got to be pretty cool when you're a baby—custom lullabies! It's what Christina Perri's daughter Carmella Stanley is getting for her first birthday—and it just so happens to be the cutest thing that's ever existed in the entire world. Songs for Carmella is filled with tracks Perri would sing to her in general, but the lullaby version for "A Thousand Years" is something that anyone can throw onto their nap time playlist. Don't have a nap time playlist? Now you do.
Future
"Crushed Up"
The best part about being a Future fan is that you never have to wait too long for something new to drop. In typical Future fashion, his new single "Crushed Up" arrives with no build up or hype beforehand, but the song itself does the talking—beats that sound right out of his DS2 era hit hard on the two and a half minute track, leading us to believe that this is merely just a warm-up to what we can expect from Future this year.
Hellogoodbye
"Here In Yr Arms 2 Back In Yr Arms"
Get ready for a "holy-blast-from-the-past" on this one! It's been nearly thirteen years since Hellogoodbye blessed us with our Myspace anthem "Here (In Your Arms)" but it's coming back…kind of…thanks to a pretty unique mash-up. "Here in Yr Arms 2 Back in Yr Arms" takes the instrumental from the band's hit from over a decade ago and throws the vocals from one of their latest songs "S'Only Natural" on top of it. Considering the stylistic differences between the two, it's definitely a weird one, but also so weird that it just works.
Backstreet Boys
"No Place"
You'd hardly realize that Backstreet Boys have been around for decades when you listen to any new song they drop—they make it feel like it's the 90's again like they're just emerging for the first time. Of course, the songs themselves don't sound like they're from that era—the group manages to modernize their sound to hang right there with the rest of them, sounding as authentic as you could hope for. "No Place" off their upcoming ninth album, DNA, was penned together by some of the best country writers around, and it shows off the guys' ability to adapt for whatever genre they take on.
Benny Blanco
"I Found You/Nilda's Story"
(feat. Miguel and Calvin Harris)
When producer/songwriter Benny Blanco released his debut solo album Friends Keep Secrets last month he mentioned how the record was still a growing project and that he would just add on songs as they were completed. For his first song of the year, he's actually revisiting one of the album's tracks with a cool twist: Switching up the vocalists. On "I Found You/Nilda's Song", Blanco swaps out Calvin Harris in favor of Miguel's smooth pipes and manages to change the song from a club banger to an atmospheric mood setter.
Other new releases:
ROZES – "Halfway There"
Mike Posner – "Move On"
Switchfoot – "Let It Happen"
Paul McCartney – "Get Enough"
Chris Young – Raised on Country
Lost Kings – Paper Crowns
Lil Xan – "Watch Me Fall"
Sting – "Brand New Day" (2019 Version)
MIKA – "Sound of an Orchestra"
D'Angelo – "Unshaken"
Raheem DeVaughn – "Belongs 2 You"
Dido – "Friends" / "Hurricanes"
Paul McCartney – "Get Enough"
Noname – "Song 31"
Chaka Khan – "Hello Happiness"
Pabllo Vittar – Disk Me (Remixes)
Tags:
Backstreet Boys
,
benny blanco
,
BMTH
,
Bring Me the Horizon
,
Calvin Harris
,
Christina Perri
,
Fresh Pressed
,
Future
,
Hellogoodbye
,
Joe DeAndrea
,
miguel
,
new music
,
New Music Friday
,
OLN
,
our last night
,
Set It Off