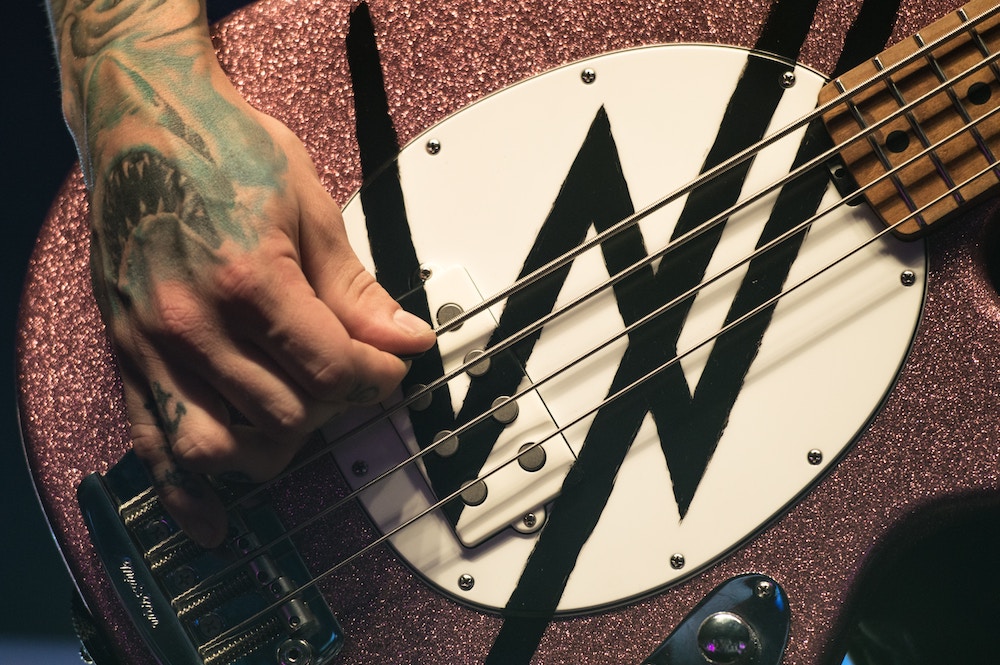 What better way to kick off a weekend than with new music? Fridays are always chock full of the latest songs and albums ready to be the soundtrack to everyone's antics, and here you'll find some of the week's standout releases. Whether you're ready to spin an anticipated song from a favorite artist or just taking a look at what's out there, there's a whole lot of tunes to dive right into. Who knows—maybe you'll find your next obsession.
Childish Gambino – "This Is America"
Writer, actor, comedian, musician…voice of a generation? It's safe to say, Donald Glover a.k.a. Childish Gambino has a lot on his mind and he's getting it off his chest in a variety of different creative ways. His latest offering is truly something else. "This Is America" is part art, part hip-hop, and part battle cry as the song and accompanying music video display a powerful message through symbolism, detailing that not only are black people under attack in America but so is black art and culture. The song itself is relatively upbeat but the video's dark imagery speaks volumes.
—
State Champs – "Crystal Ball"
It's not that new singles from State Champs are a bad thing, but they don't make the wait for the album any easier. Just a few weeks after dropping "Dead and Gone", the band unveils "Crystal Ball" from their upcoming record Living Proof. Yet another ripper, the new tune encapsulates all there is to love about the band: addictive riffs, a memorable chorus, and enough energy to keep you up until the record's June 15th release date.
Selena Gomez – "Back to You"
Even though Selena Gomez is one of the biggest pop stars in the world she never needed glitz and glamor or over the top production for her songs to reach the charts. As she gets older this only rings more true. Featured on the soundtrack for season two of the Netflix series 13 Reasons Why, Gomez dishes out an acoustic/EDM hybrid that only gets better with repeated listens, making it impossible for radio to ever over play it.
A Great Big World – "Younger"
Just because A Great Big World hasn't been in the public eye since "Say Something" doesn't mean they've disappeared. The pop-duo have quietly continued to craft excellent tunes, but their latest one, "Younger", shows that they're done keeping their voices down. A nostalgic trip down memory lane, A Great Big World looks back, wishing they were younger, all the while making their best music right here and now.
Against the Current
– "Almost Forgot" / "Strangers Again"
They've been sorely missed but Against the Current are finally back to drop a couple songs in time for the weekend. Both "Almost Forgot" and "Strangers Again" propel the band into a new dark-pop territory where any rock presence is thrown by the wayside. While "Almost Forgot" may be the fan favorite, "Strangers Again" sports an underlying bubblegum feel that older fans from their "Guessing" days will appreciate.
Charlie Puth – Voicenotes
Voicenotes, the second album from singer/songwriter Charlie Puth, is simply a case of Puth finding his own voice. While his debut, One Track Mind, had its highlights Voicenotes is ultimately the more cohesive collection with Kehlani and Boyz II Men collabs acting as the standouts. The R&B-laden hooks coupled with Puth's grown-up vocals don't just make Voicenotes a good album, it puts him into a league of his own.
LSD – "Audio"
Music's wildest supergroup is wasting no time delivering the tunes. LSD, consisting of Labrinth, Sia, and Diplo, release their second song "Audio." A plain and simple banger, the track is geared toward Sia-centric vocals, yet again, as Labrinth acts as the track's secret weapon. Honing Diplo's textbook tropical production tone, "Audio" has already gotten the music world amped for a full-length.
Rita Ora – "Girls"
(feat. Cardi B, Bebe Rexha, and Charli XCX)
Name a more iconic group of women artists on a track? We'll wait. Rita Ora brings out the firepower on her new song "Girls", boasting a cast featuring Cardi B, Bebe Rexha, and Charli XCX. To no surprise, Cardi steals the show with her verse but the rest of the girls hold their own on a track that may as well be touted as the next "Bang Bang".
John Mayer – "New Light"
Move over Maroon 5, John Mayer is here to steal your crown. Sounds weird, but it kind of makes sense. Mayor's no stranger to the mainstream charts but it's been a while since he's been there; his new single "New Light" attempts to change this. Produced by No I.D. (Kanye West, Jay-Z), this track heads in a smoother poppier direction. It isn't over the top though—it fits right in Mayer's wheelhouse and that's why it works so well.
Meghan Trainor
– "Can't Dance" / "Let You Be Right"
A double dose of sass from Meghan Trainor is something nobody can deny. After returning to the game a few months back with "No Excuses", Trainor ups the ante with two new tracks to prove she means business. Naturally, the tracks are solid reminders that she's still one of the best in the genre. "Can't Dance" is a funky dance floor anthem while the lowkey "Let You Be Right" is something to turn on once the party's over.
Other new releases:
Andrew McMahon in the Wilderness – "Ohio"
The Front Bottoms – Ann
Bastille – "Quarter Past Midnight"
Arctic Monkeys – Tranquility Base Hotel & Casino
BABYMETAL – "Distortion"
Years & Years – "If You're Over Me"
Beach House – 7
The Hunna – "NY to LA"
Noah Cyrus, MAX – "Team"
Snow Patrol – "Empress"
James Bay – "Slide"
Chromeo – Bad Decision
The Glitch Mob – "Enter Formless (feat. Rituals of Mine)"
Jungle – "House in LA"
Christina Aguilera – "Twice"
Dave Matthews Band – "Samurai Cop"
Kiiara – "Messy"
Shawn Mendes – "In My Blood (Acoustic)"
Wale – Self Promotion
Diplo, MØ – "Stay Open"
Marian Hill – Unusual
Ne-Yo – "Apology"
Wet – "Lately"
Tags:
A Great Big World
,
Against The Current
,
ATC
,
Bebe Rexha
,
cardi b
,
Charli XCX
,
Charlie Puth
,
Childish Gambino
,
Diplo
,
Fresh Pressed
,
Joe DeAndrea
,
John Mayer
,
labrinth
,
lsd
,
Meghan Trainor
,
new music
,
New Music Friday
,
Rita Ora
,
Selena Gomez
,
sia
,
State Champs