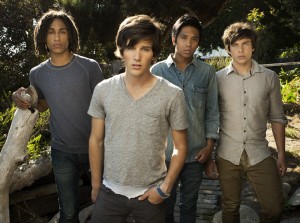 This Saturday, October 15, Allstar Weekend will be performing a free show at Hollywood & Highland. It will be their last show of 2011 before they set out on their upcoming winter tour which begins on January 13 in Minneapolis and continues through February.
Allstar Weekend will headline the first-ever "N.B.T." (Next Big Thing) concert tour in Los Angeles. Allstar Weekend were finalists in season one of "N.B.T." This concert will showcase the artists from season four of "N.B.T." including Hollywood Ending, Tay Barton, Zach Montana, Ladina Spence, and Shealeigh.
Allstar Weekend toured all summer-long with Selena Gomez & The Scene.
The free show will take play at Hollywood & Highland' s central courtyard on level 2 starting at 2pm. Allstar Weekend is set to take the stage at 4pm.
Allstar Weekend recently released their second full length CD, All The Way, with performances on Good Morning America, Live! With Regis & Kelly, and a sold out show at Chain Reaction in Anaheim.
They also won MTV's Buzzworthy poll for "Fall albums we're excited about" beating out Evanescence, Drake, Rihanna, Dev and Cody Simpson.
The band will be announcing the complete itinerary of their January/February winter tour dates shortly.
Official Website: allstarweekendrocks.com
Tags:
Allstar Weekend