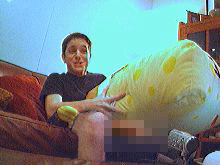 A concerned parent's call alerted Island Record staff to the online antics of Autopilot Off's webmaster, Josh Stern. Apparently, Mr. Stern was observed on the band's webcam having sex with a large, stuffed SpongeBob doll.
Autopilot Off entered the studio last month to record their major record debut for Island Records with producer Greig Nori. To help bring their fans into the process, the band set up a webcam where visitors could watch the band members recording the new album, playing video games, or just lounging around.
Last week, a parent came across Autopilot Off's web site and observed the webmaster simulating sexual intercourse with a large, yellow stuffed doll, later identified as the character SpongeBob from the Nickelodeon television show, SpongeBob SquarePants.
When asked about the incident, bassist Rob Kucharek said, "Josh is a sick kid."
Island Records has reportedly fired the webmaster, although the band's web site says simply, "I (Josh) am flying home tomorrow so I won't be in LA with APO anymore."
Josh Stern recently returned from New Zealand after shooting Good Charlotte's upcoming video for Girls and Boys. idobi Network attempted to contact Mr. Stern for comments, but calls were not returned by press time.
Autopilot Off hails from Orange County, New York (40 miles northwest of Manhattan), and built a solid reputation as a hard working touring band before signing to Island Records. The band recently cancelled five shows with Sum 41 in order to finish their album, expected to be release later this year.
For more information on the band, visit autopilotoff.com.
Tags:
Autopilot Off
,
Good Charlotte
,
Josh Stern