Love music, but fed up with buying it all online? Want to discover something new? We've got the guide for you–because we've all dreamed of being that alt-kid in every teen movie ever who hangs out at their local record shop or at the coolest clubs in town. Each month For The Record is here to bring you the best places to find your next favorite band in different cities all over the world–right to your screen. So if you think you could be that kid from the movies, let For The Record shed some light on the corners of our extraordinary music scene. There may be places you know–but plenty you don't–so you're bound to learn something, and help keep music alive at the same time. Grab your headphones and get ready to explore!
—
A popular saying among these parts is "London is a bad habit one hates to lose." Wandering these streets, you see people from all walks of life. Some are overjoyed to be in one of the biggest tourist hotspots–to have made it–but others are just annoyed those tourists are standing in their way. Love it or hate it, London is a labyrinth of possibilities and everywhere you look is a new opportunity. England's capital is home to countless icons of rock and roll–Abbey Road, the 100 Club, Savile Row–but it's time to step off the beaten path and shine the spotlight on a few lesser-known places. Who knows, you might just discover something new.
Banquet Records
Set in an unobtrusive street branching off from the centre of Kingston, the blue and white sign of Banquet Records reads, "More than your local record shop". And they've got it right–in this tiny corner of the world is a place you'll never want to leave.
For all you pop-punkers and alt-kids, this is the place to go. As soon as you walk through the door you're hit with the sheer number of vinyl records and CDs crammed into such a small space. And if you care to look up, every inch of ceiling is covered by posters of bands who have played for the store over the years. But there's no need to feel overwhelmed–you won't be rushed while you soak up the atmosphere.
The majority of their stock is made up of new alternative releases, and they even sell exclusive vinyl pressings on their own Banquet Label, including Fireworks' Oh Common Life and Real Friends' Put Yourself Back Together. This niche has given them worldwide recognition, drawing in quite the motley crew. With the revival in vinyl-collecting in full swing, a lot of younger customers are just getting started and a few older ones are getting back into the groove. The staff are just as varied and even more chilled out. From John "JT" Tolley, the self-proclaimed skateboard pro with a working knowledge of every band to ever exist, to Claire Heywood, the glue that holds it all together, every member of staff want to help you find the perfect album. Chances are, whatever you pick up will be one of their favorite bands; they're all simply huge fans of music. They'll try to answer any and all of your questions–when they're not arguing over what to play through the speakers, that is.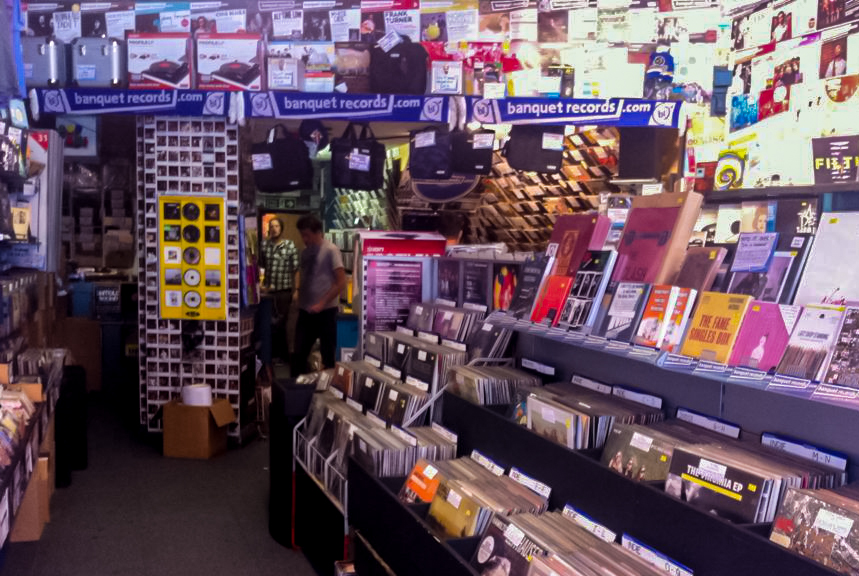 The fun doesn't stop there. Banquet hosts hundreds of bands each year. Heywood says, "We're more than just a shop that sells records–we embrace all aspects of music from physical sale to live shows to signings, and are dedicated to providing what our customers want." If buying physical records isn't enough, the in-stores they hold every week are standing room only–as many fans as they can squeeze in–where bands sit on the counter and play in one of the most personal gig experiences you could ask for. To meet bigger demands, they host club nights in larger venues around the area; All Time Low, Saves The Day, The 1975, and hundreds more have played. Not many people can say they've seen Taking Back Sunday play in a nightclub which features a stripper pole or Real Friends play in a pub basement. It's testament to Banquet Records' underdog success that such huge names will play in any space possible to be a part of their colorful history.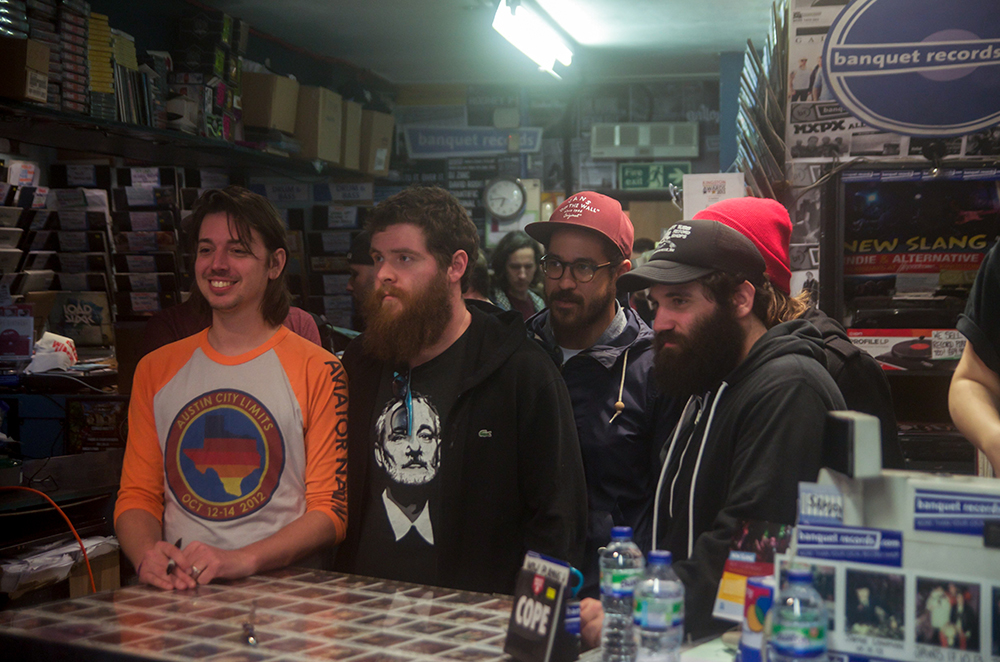 Manchester Orchestra signing in-store, 4.9.14
The evidence of so many epic nights is preserved in polaroids stuck underneath the glass of the counter. That's what they're selling–not just a place to go for records, but an exclusive experience and a chance to dive right into the world of the bands you love.
Camden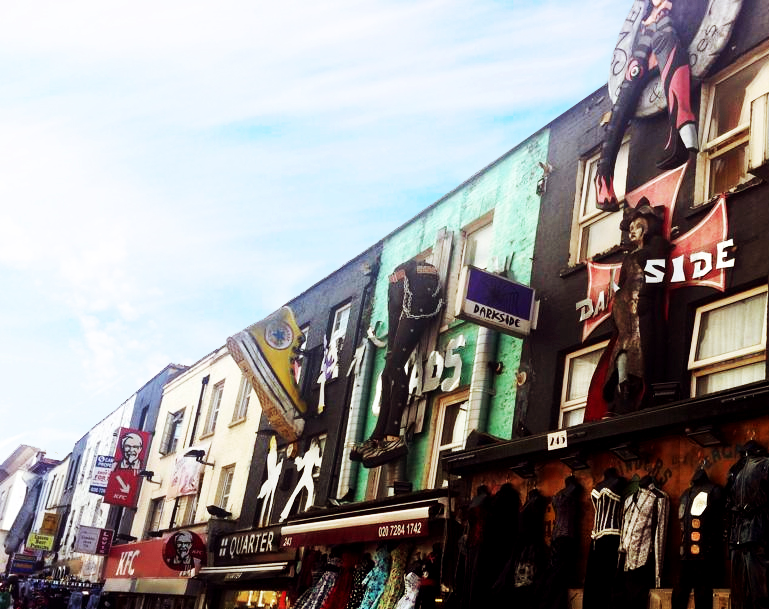 When you think of the UK, what's the first thing that springs to mind? The Queen? Doctor Who? The Beatles? Whatever you think, music is bound to come up almost immediately. It's a cornerstone of British culture. And what better place to discover music than London's resident punk scene, Camden Town. Yes, it's a tourist hotspot, so you'll head there for the markets, but look closer and you'll find something new. Walking past Camden High Street's brightly painted shops, crammed full to bursting under the awnings, you'll see life happening at a whirlwind pace. Be sure to look up because the street art and wall sculptures are incredible–from the giant Union-Jack-patterned boots above the Doc Martens store to the gigantic dragon looming over one of the many restaurants, these represent the larger-than-life place they call home.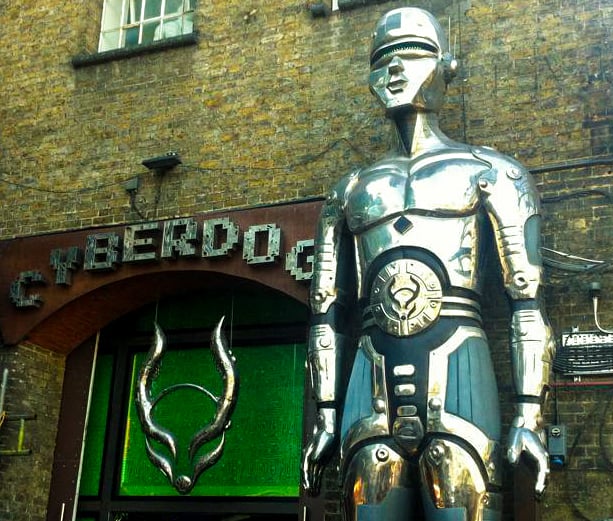 Spilling over into the bustling streets of Camden markets is where the world meets; whether it's the chef offering you her speciality Chinese dish or the pizza guy on the corner, you're never more than a few steps away from a different culture. And the same goes for music, blasting out from speakers in restaurants, musicians on the street working for some extra change, or the loud-in-every-sense-of-the-word club/shop/dance floor that is Cyberdog. With neon plastic clothes–best witnessed under a UV light–and its permanent DJ, Cyberdog brings in all sorts: punks, emos, goths, lolita girls, hipsters, and every other clique you can think of. You'll start to think you've wandered into an American high school. So why should the music be any different? Everywhere you turn is a new band playing over the speakers, or just on the street. With such variety, there's a good chance you won't even recognise half the genres going on. So come to Camden for the food; stay for the music.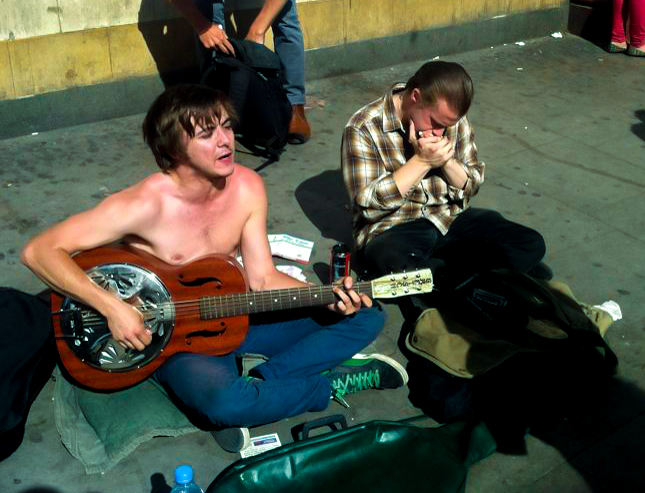 Camden lives and breathes music. You're never more than fifty paces from a record store or a venue. Stop and listen to the street performers–buskers as they're known here–there'll be punks covering Rancid and The Sex Pistols, smoky old guys indulging in some reggae, and even some kids just starting out. This is where it all began, on these very streets where the punks of old once walked. You'll see familiar faces–the tattoo artist with more studs all over his body than skin, the man who stands on the bridge making bird noises with the whistle he hides in his mouth–and you'll also discover so many things you never expected. Get ready to become a part of this extraordinary world, because you'll never be the same again.
Heaven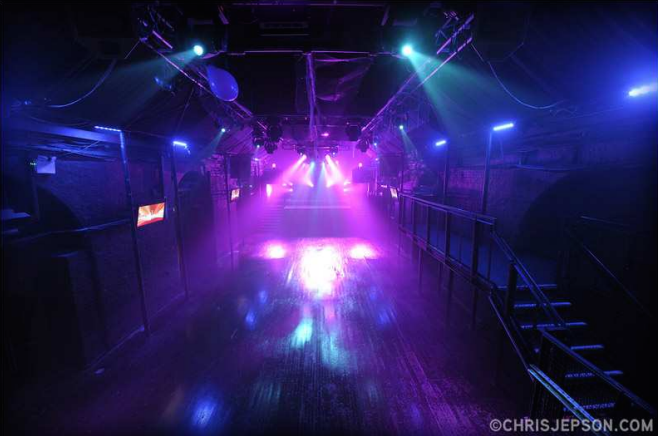 Ever thought Bon Jovi's video for "It's My Life" was the coolest thing ever? Shot in a tunnel, with hundreds of fans crammed in to witness their favorite artist in action; the whole experience sounds and looks like heaven. Well, here's your chance to reenact it–at a place literally called Heaven. Hailed as the British equivalent of NY's Studio 54, Heaven is well-known as one of London's biggest gay night clubs, but the live music gigs it holds in between club nights deserves attention too.
In this overcrowded city, every space is taken. Located "under the arches" of Charing Cross train station, the main room forms a kind of tunnel, with high curved ceilings that lead to railway tracks above. It's like the city's secret hideout–literally an exclusive underground hangout. The decor of a nightclub gives the gig setting a surreal vibe, with strobe lights turning the smoke vibrant colors. Let yourself explore the arches with rainbow-hued clouds swirling about you in peculiar ways, and give in to the mystery.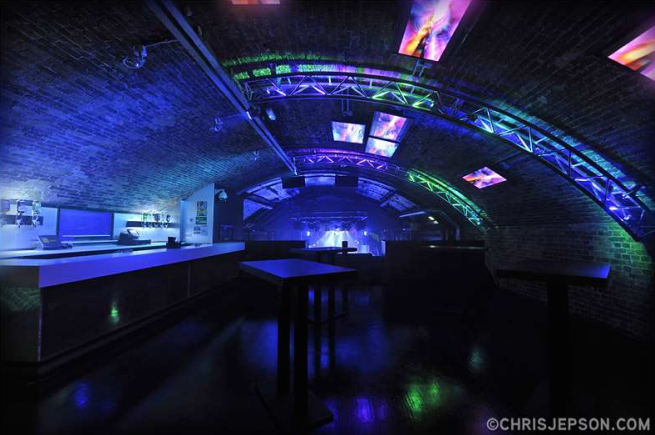 As a live venue, Heaven has featured names such as Motion City Soundtrack, The 1975, twenty | one | pilots, and many more. Stepping onto the stage under a blur of lights built for a venue much bigger, it affords some creativity for the bands to play with and for you to get lost in. The sounds of alternative are ethereal in this unconventional setting, bouncing off the curves of the brickwork and making you feel like you're in an insane bubble. And the most important factor? The stage is raised, which makes it easy to see no matter your position in the crowd–even behind that one really tall person you always seem to get stuck with.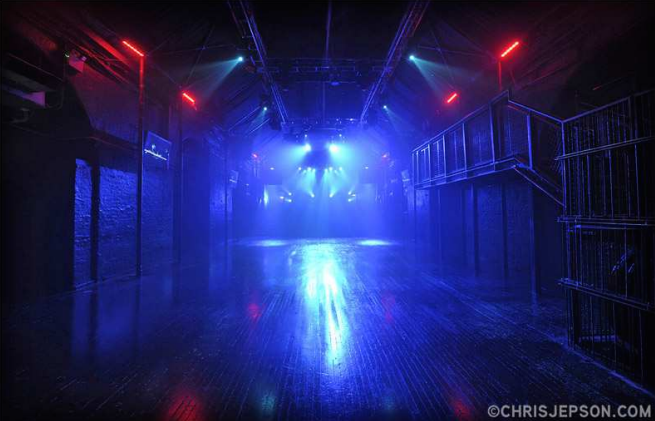 This live music scene was the brainchild of General Manager Mark Ellicott, who first brought gigs to nightclubs back in 2008. He says, "It is the only 1,000 capacity venue in Central London and it has since established itself on the live music map to complement the already successful late night club event programme." It's something to be proud of. For such a large venue to host these kinds of gigs in the city centre truly shows that rock and roll is still the beating heart of London.
 —
 England might be a small country but the influence it has on the shape of music is a huge one. And there's no city as complex or sprawling as London, which explains why it's the best to get lost in–because when you get lost, chances are you'll find something incredible. London is the music world's encore, a complicated mess of culture, where art meets music. A bad day in London is still better than a good day anywhere else.
Tags:
All Time Low
,
Bon Jovi
,
Fireworks
,
For The Record
,
Manchester Orchestra
,
Motion City Soundtrack
,
Rancid
,
Real Friends
,
Saves The Day
,
Taking Back Sunday
,
The 1975
,
The Sex Pistols
,
twenty | one | pilots