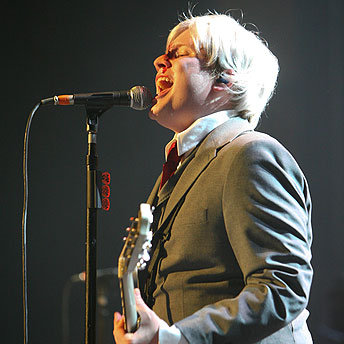 Fall Out Boy got political at their Mesa, Arizona "Believers Never Die, Part Deux" tour opener Friday night, taking the stage in dress suits and black eyes – and in frontman Patrick Stump's case, a grey Donald Trump-like wig – as a commentary on the current state of corporate America.
Video screens framing Andy Hurley's elevated drum kit aired footage of riot police and the conservatively dressed bandmembers walking through a backstage area. Hurley appeared onstage first, fervently pounding away on his kit as two men dressed in police riot gear banged on drums for opener "Disloyal Order of Water Buffaloes."
Before the second song, "Thriller," bassist Pete Wentz welcomed the crowed at the grassy Mesa Amphitheatre to the "corporate retreat," saying his plan was to teach the masses how to get rich and buy a yacht.
"But most importantly, you gotta learn how to thrill them first," said Wentz, whose wife Ashlee Simpson-Wentz was dancing side-stage.
The band and menacing riot guards retreated backstage after the third song, "A Little Less Sixteen Candles, A Little More 'Touch Me'," and the screen showed a shirtless Wentz changing clothes (to the delight of the shrieking teenage girls) as the rest of the band waited for him. When Fall Out Boy returned, they were outfitted in their normal skinny jeans and hoodies.
"Right now we're going to play as Fall Out Boy," Wentz said, noting the point of the corporate look was to show how the rich rob the poor.
He stressed that attention should be focused on the people of starving countries such as Sri Lanka and the Republic of the Congo.
Bodies flew through the air, which housed a sea of cameras and cell phones, during breakthrough hit "Sugar, We're Going Down" and "Thanks fr th Mmrs" as guitarist Joe Trohman twirled himself silly onstage. Cassadee Pope, frontwoman for Hey Monday, one of four bands opening the show, skipped onstage to join Stump for the chorus to "Sugar."
The 90-minute show was ostensibly to support FOB's latest album, "Folie a Deux," but Fall Out Boy eschewed some of their hits – including "I'm Like a Lawyer With the Way I'm Always Trying to Get You Off (Me & You)" – in exchange for deeper cuts from their catalog. The band played a healthy dose of songs from its 2003 indie release "Take This To Your Grave," including "Chicago is So Two Years Ago." And with a little polish, the older tunes sounded just as crisp and punchy as the new ones.
Set List:
"Disloyal Order of Water Buffaloes"
"Thriller"
"A Little Less Sixteen Candles, A Little More 'Touch Me'"
"Sugar, We're Going Down"
"This Ain't a Scene, It's an Arms Race"
"I Don't Care"
"Chicago is So Two Years Ago"
"Headfirst Slide into Cooperstown on a Bad Bet"
"I Slept With Someone in Fall Out Boy and All I Got Was This Stupid Song Written About Me"
"Grand Theft Autumn / Where Is Your Boy"
"What a Catch Donnie"
("Coffee's for Closers")
"Dead on Arrival"
"She's My Winona"
"Beat It"
"America's Suitehearts"
"Thanks fr th Mmrs"
"The Take Over, The Break's Over"
"Dance, Dance"
"Saturday"