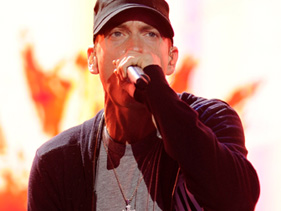 DETROIT – By the time Eminem got to "Cinderella Man," near the bottom of his set list on Friday night, the air was filled with so much audible adoration for Slim Shady, Sam Kinison himself could have rose from the grave and screamed in your ear and you wouldn't hear it. The crowd at Comerica Park was so loud, many people had to text message the person sitting right next to them.
Once again, Eminem was treated like a pharaoh. He was the closer on a two-night stand of concerts headlined by him and Jay-Z.
The stadium seemed a tad bit fuller and two notches louder than Thursday – that's not to say the love on Thursday from the audience wasn't overwhelmingly prevalent. Slim Shady is the undisputed reigning king of the Motor City.
Once again, he turned in a very energetic, enthusiastic, inspired performance. This is a man in love with life, it looks like.
With the Alchemist DJing, a band playing and Mr. Porter from D12 as his hypeman, Em's Friday set was close to Thursday's. Of the many guest stars who took the stage on the first night, only Drake, who had a show in San Francisco, was absent.
Marshall Mathers rolled out instant classics, such as his opener, "Won't Back Down," and the song that made his career explode, "My Name Is."
On the part of the song where Em raps "Dr. Dre says…" Dre Dre himself rose from under the stage.
Cue pandemonium. Seeing a performance by Dre – who is rarely even seen anywhere, let alone on a stage – is surreal as it gets. During "Nuthin' but a 'G' Thang," on which Eminem rapped Snoop Dogg's parts, 50 Cent strolled out onstage with a smile. Curiously, Em and Dre did not perform "Forgot About Dre."
"I love y'all, Detroit," Dre said. "I appreciate the love again."
Em, chimed in, "Detroit, do I love y'all or what?" He then commanded they show Dre how much they loved him.
"Deeeeeetox" chants, rang out. "I'm going to the studio," the Doc answered with a smile.
"Even in the rehearsals, after we did it, [Dre] was like, 'Yo, this is crazy.' I don't think he's been on a big stage since the Up in Smoke tour," Alchemist told MTV News earlier in the day.
Em ended the night with "Not Afraid" and his encore "Lose Yourself."
Once again, B.o.B opened the show, followed by Jay-Z. All three MCs will perform in New York on September 13 and 14.
Tags:
video