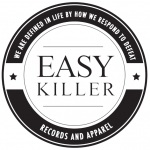 Industry veterans Mike Judy and Kevin Gales have announced the launch of their latest venture, Easy Killer Records & Apparel. The label is starting off strong with eight bands already on the roster:
Brian Marquis (of Therefore I Am)
City Of Ghosts
The Company We Keep (featuring Justin Pierre of Motion City Soundtrack)
Culprit
Mandolyn Mae
Night Verses
Ramin Niroomand
Tidewater
Check out a statement from Judy below!
When first discussing the direction we wanted to go with the label, the last thing we wanted to do was pigeon-hole ourselves by focusing on a relatively specific type of artist in terms of genre. Setting a low bar with reference to artistic integrity was also something we weren't interested in pursuing. As things stand today, we're beyond stoked to be coming out of the gate with such a diverse, skilled group of musicians.