Dont Give a F*Ck Thursday! WOOT!
By Zac Rich | September 30, 2010 at 6:57 PM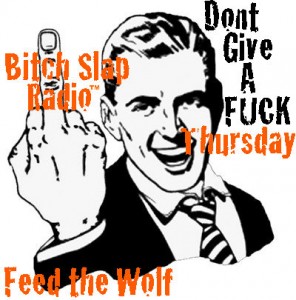 Guess what Idobi and Bitch Slap Fans! Its Dont Give a Fuck THURSDAY!!!
On man we got a bad ass show tonight! The gloves are off and no one is safe! Make sure to tune in live tonight at 10:30 Pm Est!
FEED THE WOLF MOTHER FUCKERRRRR
AIM:  Bslapradio
Skype:  LoonaticTV
Twitter:  @BitchSlapRadio
Call In Line:  888-99-IDOBI  (43624)