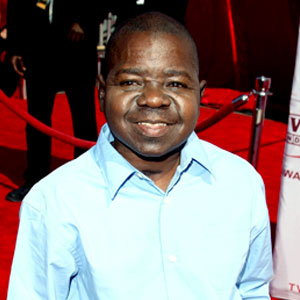 PROVO, Utah – Gary Coleman, the child star of the smash 1970s TV sitcom "Diff'rent Strokes" whose later career was marred by medical and legal problems, died Friday after suffering a brain hemorrhage. He was 42.
Life support was terminated and Coleman died at 12:05 p.m. MDT with family and friends at his side, Utah Valley Regional Medical Center spokeswoman Janet Frank said.
Coleman, with his sparkling eyes and perfect comic timing, became a star after "Diff'rent Strokes" debuted in 1978. He played Arnold Jackson, the younger of a pair of African-American brothers adopted by a wealthy white man.
His popularity faded when the show ended after six seasons on NBC and two on ABC.
Coleman suffered continuing ill health from the kidney disease that stunted his growth and had a host of legal problems in recent years.
He suffered the brain hemorrhage Wednesday at his Santaquin home, 55 miles south of Salt Lake City.
A statement from the family said he was conscious and lucid until midday Thursday, when his condition worsened and he slipped into unconsciousness. Coleman was then placed on life support.
"The world's going to be a little less happy place without Gary," Randy Kester, Coleman's attorney, told The Associated Press. "For being a small guy, he sure had a big impact on the world."
"Diff'rent Strokes" debuted on NBC in 1978 and drew most of its laughs from the tiny, 10-year-old Coleman.
Race and class relations became topics on the show as much as the typical trials of growing up.
Coleman was an immediate star, and his skeptical "Whatchu talkin' 'bout?" – usually aimed at his brother, Willis – became a catchphrase.
In a 1979 Los Angeles Times profile, his mother, Edmonia Sue Coleman, said her son had always been a ham as a small child. He acted in some commercials before he was signed by T.A.T., the production company that created "Diff'rent Strokes."
"Gary remembers everything. EVERYTHING," co-producer and director Herb Kenwith told the newspaper.
The attention his starring role brought him could be a burden as well as a pleasure. Coleman said in 2001 that he would do a TV series again, but "only under the absolute condition that it be an ensemble cast and that everybody gets a chance to shine."
"I certainly am not going to be the only person on the show working," he said. "I've done that. I didn't like it."
The series lives on thanks to DVDs and YouTube. But its equally enduring legacy became the troubles in adulthood of its former child stars, including the 1999 suicide of Dana Plato, who played the boys' white, teenage sister.
Todd Bridges, who played Coleman's brother, was tried and acquitted of attempted murder.
Coleman had financial and legal problems in addition to continuing ill health from the kidney disease that required dialysis and at least two transplants. As an adult, his height reached only 4 feet 8 inches.
He continued to get credits for TV guest shots and other small roles over the years. But in 2001 he said he preferred earning money from celebrity endorsements.
"Now that I'm 33, I can call the shots," he said. "And if anybody has a problem with that, I guess they don't have to work with me."
Coleman was among 135 candidates who ran in California's bizarre 2003 recall election to replace then-Gov. Gray Davis, whom voters ousted in favor of Arnold Schwarzenegger.
Coleman finished in eighth place with 12,488 votes, or 0.2 percent, just behind Hustler magazine publisher Larry Flynt.
Running for office gave him a chance to show another side of himself, he said at the time.
"This is really interesting and cool, and I've been enjoying the heck out of it because I get to be intelligent, which is something I don't get to do very often," he said.
But legal disputes dogged him repeatedly. In 1989, when Coleman was 21, his mother filed a court request trying to gain control of her son's $6 million fortune, saying he was incapable of handling his affairs. He said the move "obviously stems from her frustration at not being able to control my life."
In a 1993 television interview, he said he had twice tried to kill himself by overdosing on pills.
He moved to Utah in fall 2005, and according to a tally in early 2010, officers were called to assist or intervene with Coleman more than 20 times in the following years. The responses included a call where Coleman said he had taken dozens of Oxycontin pills and wanted to die.
Some of the disputes involved his wife, Shannon Price, whom he met on the set of the 2006 comedy "Church Ball" and married in 2007.
In September 2008, a dustup with a fan at a Utah bowling alley led Coleman to plead no contest to disorderly conduct. The fan also sued him, claiming the actor punched him and ran into him with his truck.
Coleman was born Feb. 8, 1968, in Zion, Ill., near Chicago. His mother told Ebony his kidney disease was diagnosed when he was 2. He underwent his first transplant at age 5.
He attracted attention when he took part in some local fashion shows and people suggested he should get work performing in commercials, which he then did, she said.
She stayed with her son in California while he was making "Diff'rent Strokes," while her husband Willis, a pharmaceutical company worker, stayed behind in Illinois.
Tags:
Gary Coleman