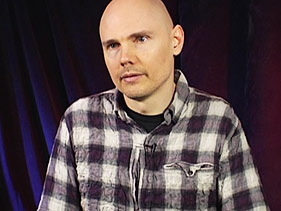 While Billy Corgan was mum about his relationship with pop star Jessica Simpson when he spoke to The Chicago Tribune last month, the Smashing Pumpkins front-man was a bit more forthcoming to Rolling Stone about the nature of his relationship with the singer.
"If I go, 'Oh, we're just friends,' then it's like, 'Did they go out, did he dump her or she dump him, what happened?' It has nothing to do with any of that. Sometimes people just like being around each other, and good things come out of that," he told the magazine.
"My goal in life is to love whoever I think is worth loving, and I think if people knew her like I knew her, they would love her like I do. It's really simple."
He had harsher words for his former band-mates in the Smashing Pumpkins.
"Rather than break up the band, what I should have done is chuck James [Iha] out," Corgan explained. "I should have just said to Jimmy [Chamberlin], 'You go to rehab, and we'll continue, and James, get the f— out of here.' Instead, I fell on my sword for James, for what I thought was a friend."
He also opened up about his career now and his ongoing work on the Pumpkins' Teargarden by Kaleidyscope, a planned 44-track collection he's gradually releasing over the course of three years via free download from his Web site.
"There's a lot of days where you feel forgotten," he said. "Do I belong in the conversation about the best artists in the world? My answer is yes, I do. I've been too productive for too long, and despite what anybody wants to strip away from me, I am influential. I am. So all the Pitchforks in the world can try to strip me of every ounce of dignity, but I belong."
Tags:
Billy Corgan
,
Jessica Simpson
,
Smashing Pumpkins