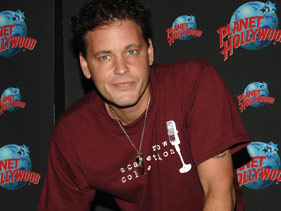 BURBANK, Calif. – Actor Corey Haim, 38, died Wednesday morning from an apparent drug overdose, according to radio station KTLA.
The actor, who rose to fame in the 1980s alongside longtime pal Corey Feldman, was found unresponsive in his apartment near Burbank, Calif., police told the station.  He reportedly died at 3:30 a.m. PT, and his mother was at his home at the time of his death. He was pronounced dead Providence St. Joseph's Medical Center in Burbank, police said.
Haim was born in Ontario in 1971 and as a teenager found fame in Hollywood. He first starred in 1984's "Firstborn" with Sarah Jessica Parker and Robert Downey Jr. He was a star of the decade, alongside other notable actors of the era like C. Thomas Howell, Rob Lowe, Judd Nelson and Emilio Estevez. He starred in films like "Silver Bullet," Lucas" and most famously 1987's "The Lost Boys," with Feldman as well as Kiefer Sutherland.
In the 1990s Haim played more obscure roles yet continued to work steadily in films like "National Lampoon's Last Resort" and "Prayer of the Rollerboys." Haim struggled with substance abuse through much of his career.
In the past decade, however, Haim made moves for a career comeback. He starred alongside Feldman on their A&E reality show, "The Two Coreys," for two seasons. He was also made a cameo in the "Lost Boys" sequel, "Lost Boys: The Tribe," where he reprised his role as Sam Emerson. He also had several films in production at the time of his death.
Tags:
Corey Haim