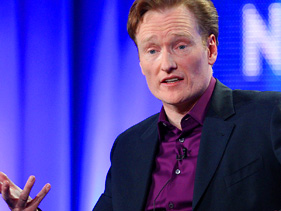 Conan O'Brien and NBC were said to be close to a deal late last week to secure the host's exit from "The Tonight Show" after just seven months on the job, clearing the way for Jay Leno to return to the desk he occupied for 17 years.
Now it appears that those negotiations are bogged down over the issue of severance compensation for O'Brien's staff of nearly 200, many of whom moved from the East Coast to California when their boss took the "Tonight Show" gig.
Conan is "dug in on that," a source familiar with the talks told the Associated Press.
Earlier reports have offered conflicting versions of what was going on backstage at "Tonight." The New York Post reported that the staff was disgruntled over the  possibility of  losing their jobs while O'Brien walked away with millions in compensation. Conan's manager hit back against such accusations, telling TheWrap.com that the host was intent on securing adequate payment for his staff.
"It was Conan's decision to leave NBC that resulted in nearly 200 of his staffers being out of work," NBC wrote in a statement. "We have already agreed to pay millions of dollars to compensate every one of them. This latest posturing is nothing more than a PR ploy."
It seems like relations are going to get even nastier between the network and their soon-to-be-jettisoned top dog. Speaking of which, negotiations are also focused on whether or not O'Brien will be able to maintain the intellectual property rights to comedy bits, like "Triumph the Insult Comic Dog," that he created during his NBC tenure, according to the AP.
Thus far, the proposed deal between the two sides would reportedly pay O'Brien more than $30 million and allow him to start work on another network as early as this fall. The deal, however, is said to prevent Conan from attacking NBC in his jokes if and when he pops up on another network, perhaps Fox, as has been rumored.
On Tuesday's show, though, Conan was still addressing the late-night debacle head on, even referencing the possibility of skipping over to the rival network when he ticked off a list of ways to keep himself occupied once he leaves his show.
"Make a big move to Fox," he said. "Megan Fox."
Tags:
Conan O'Brien