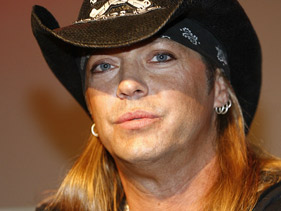 Despite reports that Bret Michaels' condition had "stabilized" after he suffered a brain hemorrhage late Thursday, his website was updated April 24, noting that the Poison singer remains in critical condition.
"There are several incorrect reports on Bret's condition," the post reads. "Bret remains in critical condition at an undisclosed location. Further tests are being ran and information will be updated in the coming days."
TMZ reported late Friday that Michaels was "awake, in good spirits and talking" citing Ambre Lake, the season-two winner of Michaels' "Rock of Love" reality show. The site reported that Lake has spoken with people close to Michaels who said he was "stabilized and conscious." Lake's status update on the 47-year-old singer was said to coincide with another unidentified "Rock of Love" contestant who is in touch with the other members of Poison.
Michaels was rushed to the hospital late Thursday evening, where doctors discovered he had suffered a sub-arachnoid hemorrhage, or bleeding at the base of his brain stem, a rep for the singer confirmed.
"After several CAT scans, MRIs and an angiogram, doctorsdecided to keep Michaels in the ICU and are running several tests to determine the cause of the hemorrhage," a source told People magazine, in a report that Michaels' rep said was accurate. "It will be touch and go for the next few days while he is under intense observation."
Donald Trump of the NBC show Celebrity Apprentice,on which Michaels has been a competitor, told Entertainment Tonight on Friday that he was "deeply saddened" by Michaels' affliction and added, "My thoughts and prayers are with him and his family at this time. He's a great competitor and champion and I hope he will be fine."
Tags:
Bret Michaels
,
Poison