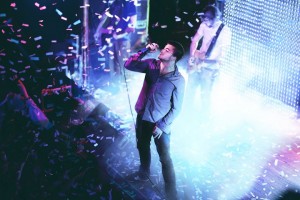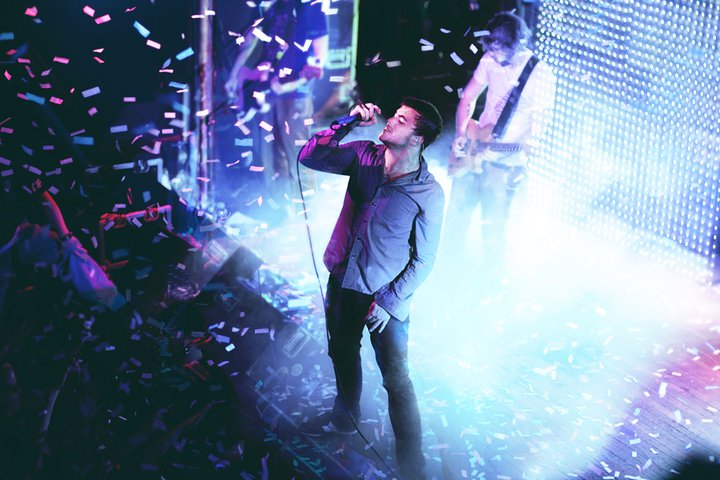 DETROIT-  As the house lights dimmed with fog billowing from the stage at Detroit's historic Saint Andrew's hall, fans in attendance for the sold-out stop of Circa Survive's "Blue Sky Noise" tour had little idea of what laid ahead: a fantastic display of musicianship, community and otherwise all-around good time.
In a scene whose description may typically be reserved for an underground rave, those in attendance were treated to a magnificent concert complete with a brilliant light show, flying multi-colored balloons, frequent bursts of confetti and a sense of togetherness.   Previously strangers, fans were brought together by a common theme.   The love of great music.
As Anthony Green and company launched into the 90-minute set, fans were instantly treated with the first 3 tracks of the band's most recent effort, Blue Sky Noise.   Fans didn't have to wait long before the Philadelphia five-piece dove into their back catalog with old favorites such as "In the Morning and Amazing" and "Holding Someone's Hair Back".
In the predominantly Blue Sky Noise heavy set-list, the audience was treated to a multitude of concert surprises.   The band was joined onstage by a fan club choir as Green strummed acoustically to "Spirit of the Stairwell", enormous confetti-filled balloons bounced around the venue during "Imaginary Enemy" and fan favorites such as "In Fear and Faith" were plentiful.
In the midst of the encore, which kicked off with "Compendium" before leading into "Dyed in the Wool", Green expressed his gratitude while summing up the camaraderie-esque feeling of the evening.
"This is one of the best times we've ever played Detroit," Green began.   "It's unbelievable how honored we feel to come out here and do this for you.   We're only doing this 'cause we love music.   We all love music; it makes us feel good.   There's no distinction between us."
With that connection to the crowd, fans erupted in applause as the group jumped into their final song, "I Felt Free".
Kicking off the night was experimental instrumental metal band Animals as Leaders, whose engaging performance, thanks in no small part to the band's impressive, tight musicianship, was met with warm reception. Segueing between Animals as Leaders and Circa's immediate opening act, dredg, was recently reunited Codeseven.
Circa Survive aside, the night's best moments were provided by San Francisco four-piece progressive rockers dredg.   Led by front man Gavin Hayes, the band received a warm reception in their set filled with an assortment of tracks both new and old.   Despite a set consisting primarily of tracks from the band's most recent album,  The Pariah, The Parrot, The Delusion, fans were treated to older favorites such as "Bug Eyes" and "Jamais Vu".
When all was said and done, the concert stood as a reminder of what the music scene should be about.   Coming together for a shared love of quality music and a great time.
Tags:
Animals As Leaders
,
Circa Survive
,
Codeseven
,
Dredg