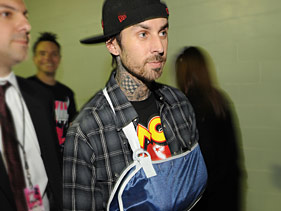 Once the initial shock of seeing a reunited Blink-182 take the stage at Sunday's Grammy Awards had subsided, fired-up fans were left to analyze the brief moment, Zapruder-film style.
In a post-Grammy interview, Barker told "Extra" host  Mario Lopez that he'd just undergone surgery related to his plane crash last September.
"I kind of rushed out of the hospital and my hand was numb, but I didn't tell anybody," Barker told the erstwhile A.C. Slater. "It was in four or five of my fingers. I really wanted to fix it as soon as possible.
"I had bad nerve damage, so I just got surgery," he added. "I have eight to 10 weeks to recover."
Barker has undergone several surgeries since surviving the South Carolina plane crash that killed four others, including his assistant, Chris Baker, and his security guard, Charles "Che" Still. Barker and partner DJ AM escaped the fiery crash with second-and-third degree burns.
Back in 2004, Barker broke his right foot after a Blink gig in Australia, leading to the cancelation of dates on that continent and in Japan. In 2006, Barker injured his right forearm while playing drums with Mark Hoppus in +44. He was fitted with a cast, and soldiered on, playing drums with his left hand.
It's not known whether Barker's surgery will affect the status of Blink-182's plans to release a new album and tour this summer, as they have stated in a message on their official Web site.