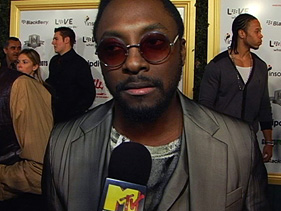 Whether or not the Black Eyed Peas win one of the six Grammy Awards for which they're nominated, they'll be taking the stage in a big way on Sunday. Members Will.I.Am and Taboo promise that their performance will go beyond what they've done in other recent TV appearances.
"We're gonna have some surprises. We're just gonna do our part and entertain cats that are watching the Grammys," Will.I.Am told MTV News at the Dipdive Data Awards on Thursday night in Los Angeles. "It's gonna be fun. [We'll] make it fun."
Taboo chimed in, noting that whatever fun they toss at the audience, they certainly won't be going small. "Well it's just, you know, it's bigger. It's more of a spectacle. Before it was just being raw, jumping around stage, diving, b-boying, bringing that whole raw energy of the hip-hop element," he explained. "And now, going into the Grammys, we want to bring something bigger, a bigger spectacle."
But, Will.I.Am is quick to point out that the nominations mean so much for the band and having their work on their album The E.N.D. be recognized with so many nominations means so much after he says he felt that the music community didn't believe in them very much after their release 2005 Monkey Business.
"This one means a lot to us," he said. "People were ready to write us off like, 'What – Black? They're coming back?' 'Cause we've been away since 2005. Really we hadn't put out a record in a while. So, out of sight, out of mind, but we smashed it, like, oh my gosh."
Tags:
Black Eyed Peas
,
Grammys