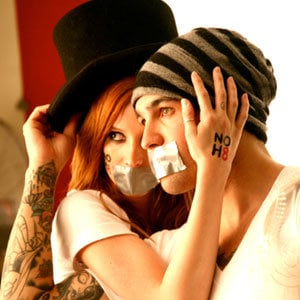 Pete Wentz and Ashlee Simpson-Wentz are keeping their mouths shut for gay marriage.
The couple are the latest celebs to take part in NOH8, a campaign supporting efforts to overturn Proposition 8.
They were shot by photographer Adam Bouska on Monday with the campaign's signature look: "NOH8" painted on their cheeks and duct tape over their mouths as a symbol of the pro-gay voices not being heard.
Ashlee also holds a wedding veil in the pic.
Blink-182's Mark Hoppus also posed for NOH8
Like the Wentzes, Hoppus took part in the big Hollywood rally and protest shortly after the California Supreme Court upheld the ban on same-sex unions.
"My son asked me one time, 'Some guys have girlfriends and some girls have boyfriends, but do boys sometimes have boyfriends?'" Hoppus told us at the rally. "I said, 'Yeah, all kinds of people love different kinds of people. And that's the world we live in.'"
Bouska launched NOH8 with his partner Jeff Parshley in November after the passage of Prop 8.
Shanna Moakler and a gaggle of other former beauty queen titleholders posed for the campaign shortly after the Miss California Carrie Prejean controversy erupted in April.