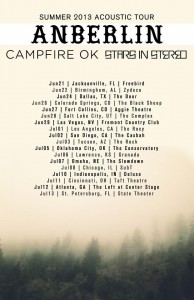 Anberlin will be heading back out on the road this summer, embarking on an acoustic tour much like the one they did last year at this time. They'll be bringing along Campfire OK and Stars In Stereo with them as well, and tickets go on sale Friday.
We are super pumped to announce that we are taking our acoustic tour (that we did last summer) back out this summer! We had so much fun on the first version of that tour that we decided to bring it out west this June and July. We will be playing a stripped down set, playing songs we haven't played in a long time, re-working some newer songs, and in general, presenting a unique version of what we do that we don't get the opportunity to show very often.

Please spread the word, and don't miss out on these shows as we're also playing some venues we haven't been to in a long long time! Tickets go on sale on Friday of this week.
Tour dates with Campfire OK and Stars In Stereo:
Jun21 | Jacksonville, FL | Freebird
Jun22 | Birmingham, AL | Zydeco
Jun24 | Dallas, TX | The Door
Jun26 | Colorado Springs, CO | The Black Sheep
Jun27 | Fort Collins, CO | Aggie Theatre
Jun28 | Salt Lake City, UT | The Complex
Jun29 | Las Vegas, NV | Fremont Country Club
Jul01 | Los Angeles, CA | The Roxy
Jul02 | San Diego, CA | The Casbah
Jul03 | Tucson, AZ | The Rock
Jul05 | Oklahoma City, OK | The Conservatory
Jul06 | Lawrence, KS | Granada
Jul07 | Omaha, NE | The Slowdown
Jul08 | Chicago, IL | SubT
Jul10 | Indianapolis, IN | Deluxe
Jul11 | Cincinnati, OH | Taft Theatre
Jul12 | Atlanta, GA | The Loft at Center Stage
Jul13 | St. Petersburg, FL | State Theater
Tags:
Anberlin