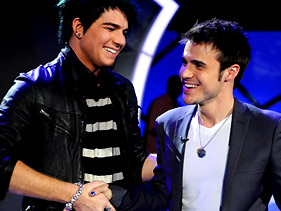 No matter who is crowned the next American Idol on Wednesday night, season eight has already been one for the books.
After a wild five months that has included emotional breakdowns from near-finalists, a comedian/singer who almost crashed the top 13 with his over-the-top shtick, the first top 13, a wild card round, a judges' save and some serious bickering in the expanded judging panel, you'd think that whatever happens on the finale would be anticlimactic.
But thanks to the surprise exit of early favorite Danny Gokey last week, tonight's sing-off between Kris Allen and Adam Lambert has injected some late-season drama into the still top-rated U.S. show.
According to host Ryan Seacrest, tonight's show will consist of a first round of the contestants' favorite songs from this season, followed by songs chosen by producer Simon Fuller and then a round in which they will each sing this year's yet-unannounced winner's single.
The format should give both Allen and Lambert ample  opportunity  to play to their strengths and have a shot at the big, emotional moment while tackling the predictably sure-to-be-schmaltzy and over-the-top winner's tune.
Lambert, the stage veteran who has been playing to audiences since he was 8 years old, and Allen, whose friends say they often had to twist his arm to perform, could not be more different.
The mild-mannered Allen, who was turning into a bit of a judges' punching bag, staged a late-season surge that was capped with last week's well-received acoustic twist on Kanye West's "Heartless." The mellow, stripped-down take on the electro anthem secured Allen's ticket to the finale and looks to have provided a boost that could swell the ranks of his supporters. The clean-cut and married 23 year old has wooed a legion of young teenage female fans and, by some accounts, their mothers as well.
The flashier Lambert, 27 (or 28, depending on whom you believe), has electrified the stage with a sexually ambiguous glam-rock persona that sets him apart from any finalist in the show's history. From his snake-charmer cover of Johnny Cash's "Ring of Fire" to the first-ever performance of a Led Zeppelin song on the show, the bombastic "Whole Lotta Love," Lambert has kept fans and the judges guessing from week-to-week. He even has his own devoted cult of hard-dialing fans, dubbed "the Glamberts."
What will they have to do to tip the balance with their performances? Rickey Yaneza, founder of the popular five-year-old "Idol" fan site Rickey.org, favors Lambert for the taking, saying that his consistent record will bode well for him in the final stages of the season.
"Kris definitely has some momentum going into the finale, but my point of view has always been that Adam will win. In order to get a good show, they have to do what they've done all season and not deviate from the script."
For Lambert, that means a likely producer's pick that is similar to his lauded dramatic take on Tears for Fears' "Mad World," and a personal choice that displays his more rocking side but aims higher than the middling response to his take on Aerosmith's "Cryin'" from last week.
Though Lambert set the stage early in the competition by creating (or borrowing) unique arrangements for well-known songs, Allen has proven to be just as crafty, changing up the disco staple "She Works Hard for the Money" into a bossa nova shuffle, even if he has received less credit for his creative flourishes.
Yaneza predicts that in the end, the battle could come down to a vocal precision match which could spell defeat for Lambert.
"For Kris, the danger for him is, if he goes head-to-head with Adam with singing calisthenics… it's over. People won't be talking about him having a chance to win," he said, adding that while both singers appeal to the female demo, Lambert definitely speaks to an audience that enjoys a more rock-and-roll sensibility while Allen's fans appear to prefer a softer sound.
But even while Yaneza said Allen can have a good showing provided he keeps it in his lane – in other words, mellow Jason Mraz/John Mayer-esque ballads – he doesn't think that will be enough for him to win the competition, either. In particular, he said, popularity can and does trump merit, a factor that would seem to favor Lambert as the season heads towards a close.
"It's nice that people think it's up in the air, because that makes for good TV… but even if Adam falters, he is the more popular one and history shows that no matter what, the more popular singer wins. It was the same thing with David Archuleta last year: David Cook was just the more popular one."
As proof of Lambert's greater popularity, Yaneza said that the traffic for Lambert-related stories on his site is easily two or three times bigger than anything he's ever posted on Allen.
Regardless of who wins, when the dust settles tomorrow night, "Idol" will have its first back-to-back male winner, its first (allegedly) openly gay champ or the first come-from-behind victor who vanquished the presumptive favorite.