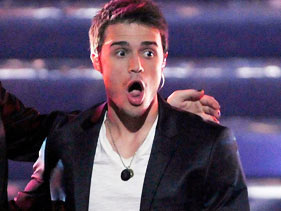 Call him the "dark horse," the "Come-From-Behind Kid," the humble crooner. Call him whatever you like. But from now on you also need to call Kris Allen your "American Idol."
After a historic tally of nearly 100 million votes, the shy 23-year-old singer from Conway, Arkansas, pulled off one of the most surprising wins in the show's nearly decade-long history by taking the crown from the theatrical season-long frontrunner, Adam Lambert.
After nearly two hours of anticipation, when the time came for host Ryan Seacrest to announce the results, Allen and Lambert stood arm-in-arm, their friendship looking much more like a real bond than a made-for-TV façade. And when Seacrest opened the envelope, Allen looked genuinely stunned, his mouth hanging open as Lambert gave him a big hug.
"Are you freakin' serious? It feels good man, but Adam deserves this. I don't even know what to feel right now. This is crazy. Thank you so much," Allen said, raising his hand in victory and looking a bit nauseous.
Moments before, admitting that he does not usually mean it, judge Simon Cowell told the finalists, "I thought you were both brilliant, unusually, incredibly nice people and I think both of you should be incredibly proud of what you achieved last night."
It was a distinct turnaround for the always acerbic Cowell, who repeatedly talked down to Allen over the course of the final rounds, telling him he would never win the crown, until recently changing his tune when Allen's momentum began to pick up thanks to a series of wily, creative decisions. After struggling with the Kara DioGuardi co-written winner's song "No Boundaries" on Tuesday night, the mild-mannered 23-year old knocked it out of the park on his second try, embracing the judges and his fellow contestants as a rain of confetti and sparks enveloped the stage.
According to Seacrest, despite some busy signals, just under 100 million votes came in for Lambert and Allen Tuesday night, and though he did not reveal how many votes ultimately separated them, he said the season total was a record-setting 624 million votes.
Eschewing their typical casual wear, prior to the big reveal, the judges put on their Wednesday best, with Randy Jackson rocking a tuxedo, DioGuardi modeling a sleek black dress, Paula Abdul sporting a body-hugging gold number and even Cowell leaving the v-neck T-shirts in the closet in place of a black suit and white shirt.
The first glimpse of the finalists showed them wearing matching all-white outfits, looking like a pair of space-age cabana boys. Picking up on that crisp look, the music kicked off with the top 13 contestants, also in all white, doing a cover of Pink's "So What." Later in the program, the girls got on their glam outfits for a slowed-down take on Fergie's "Glamorous," which segued into the Fergilicious one herself doing a snippet of "Big Girls Don't Cry." She was joined by her Black Eyed Peas mates and some black and white spandex-clad dancers for the group's speaker-banging hit "Boom Boom Pow."
Last year's winner, former bartender David Cook, came back for a second time this season, singing his lighter-flicking balled "Permanent" as a tribute to his recently deceased older brother, Adam. And Lil' Rounds redeemed her unglamorous exit by standing toe-to-toe with Queen Latifah and rocking it on the regal one's new single, "Cue the Rain."
Finalists Anoop Desai and Alexis Grace bopped along with Jason Mraz to his reggae lite hit "I'm Yours," last girl standing Allison Iraheta partnered with a dulcimer-strumming Cyndi Lauper for "Time After Time" and third-place finisher Danny Gokey gave a glimpse of his potential career with a soulful run through Lionel Richie's "Hello." Also paying a visit on the classics-heavy finale was legendary guitarist Carlos Santana, who ripped into "Black Magic Woman," with a vocal assist from Matt Giraud, soon joined by the rest of the top 13 for a sing-along to the Grammy-winning smash "Smooth."
And the hits kept coming as the top two got their chance to shine, with Allen showing off his country pop potential alongside Keith Urban on the twangy "Kiss a Girl," while Lambert donned studded metallic wings, gigantic platform boots and a space age black leather suit to croon the classic Kiss ballad "Beth." The pyro-loving rockers then descended from the ceiling in fireball slash to sing a medley of "Detroit Rock City" and "Rock and Roll All Nite," with Lambert nearly showing up both of the band's singers with his power-rock vocals.
Near the end of the two-hour flashback fantasy ride, the pair took center stage along with Queen guitarist Brian May and drummer Roger Taylor for a fog-enshrouded sway through the English glam rocker's iconic "We Are the Champions," grabbing hands for a bro-shake at one point and ending the song by holding a dual high note.
One of the night's strangest visitors was comedic legend Steven Martin, who plucked his banjo on the original bluegrass tune "Pretty Flowers" from his just-released debut musical effort, The Crow, voiced by Michael Sarver and Megan Joy. Continuing the Boomer-friendly cavalcade of oldies, the male finalists put on their best "Reservoir Dogs" black suit and ties to sing Rod Stewart's "Do Ya Think I'm Sexy?" paving the way for Rod the Mod himself to croak his classic "Maggie May."
Among the other time-fillers of the night were the lampoony Golden Idol Awards, which reminded us of all who did not make it past the initial rounds, including one favorite, Nick Mitchell. Despite seemingly using up his time, Mitchell acted like he was getting a real award, only to strip down to spangly uniform and give us one more dose of his spastic rhythm and farce. We also got another glimpse of Katrina Darrell, who got showed up by her tormentor, DioGuardi, when the judge outsang and outfoxed the swimsuit model by revealing her own bikini body.
But, ultimately, the night belonged to Allen, who truly underwent a transformation on the show from the meek guy who auditioned and said he was not sure he was the next "American Idol" to the singer who silenced the doubters not with a Lambert-like rebel yell, but with a quiet confidence and a shy grin.