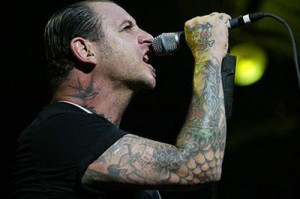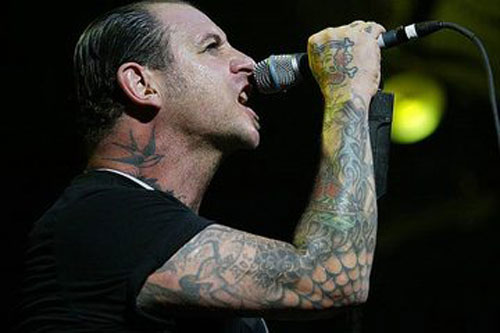 LOS ANGELES (Reuters) — Mike Ness is the sole remaining original member of Social Distortion, the southern California rockabilly punk band that rose to prominence during the 1980s.
The group turned June Carter Cash's "Ring of Fire" into a staple of rock radio, and Ness' hardscrabble youth inspired such hits as "Story of My Life" and "Prison Bound."
Social Distortion's first album in more than six years, "Hard Times and Nursery Rhymes," recently debuted at No. 4 on the U.S. pop chart, the highest ranking in the band's career. The road warriors will begin a U.S. tour in Albuquerque on Tuesday, and then hit Europe for the summer festivals.
Ness, 49, the band's singer/songwriter/guitarist, recently spoke with Reuters about the joys of travel, the tough economy and his relief at no longer being like Charlie Sheen.
Q. You travel so much for your job, do you ever travel for fun?
A. Yeah, now that the kids (Julian 19, Johnny 14) are growing up I look forward to traveling with my wife (Christine). Now it's time for us, I guess. We spent years raising children and now you have to start thinking about the second half of your life.
Q. What are your dream countries or dream cities?
A. I recently went to some places for the first time. I went to Australia for the first time, really enjoyed that. I fell in love with Argentina, particularly Buenos Aires. I get to see some of these places when I'm traveling for work. Then I think, Oh man we need to come just when I'm not working. Especially when you get to some of these older countries, then you really get into the history. You realize how young the United States is and how immature we are!
Q. Has all this travel changed your mindset?
A. Oh yeah, completely. It was a process for me. In the mid-90s, I hated Europe. I was an arrogant American. All I could see was the stuff that they didn't have that America did. As you get older now it's just like, God, America could learn so much from these other countries. Even Canada, jeez. We're just so arrogant and so self-righteous. You see these other countries and you can't help but think, Wow!
Q. Have you lined up a retirement destination?
A. Well, we have a little rural property with three acres in northern California and that's kinda where we see ourselves. The pace of life is slower and we both love working in the land, and digging and planting, doing stuff like that. Drive a tractor. That's when I'm the happiest is when I'm cutting the three acres down and in a zone.
Q. Is the gap between albums an acknowledgment that these days it's more lucrative to be on the road than in the studio?
A. We're on the road regardless. But yeah, it's sad but true. Record sales used to mean something, and now they really don't. It sucks for us. For me having a couple of gold records wasn't the money that I made from selling those, it was the acknowledgment of there's your accomplishment right there hanging on the wall.
Q. Do you think Social Distortion albums, with their focus on tough-luck stories inspired in part by your own troubled life (including heroin addiction), are a good soundtrack for the hard economic times?
A. Definitely, because hard times are hard times. They don't necessarily need to mean emotional stuff. I lost a ton of money on real estate last year, man…I can't even justify losing it … I just made some bad choices with moving the family. I bought something, found something better, borrowed the money to buy that. That property value went down. I'd already gutted it. And then another house that we had lived in before is taking a long time to sell. But at the same time, that's what I do. I make money and I'll make it back, and it kinda was a good lesson, y'know?
Q. Do you invest in stocks and bonds as well?
A. No, I don't know anything about that. My one regret is that I didn't get an education and learn about some of this kind of stuff, or have parents that could show me about it.
Q. Can't you get your managers to teach you?
A. Yeah, definitely. I've got great business managers, a couple of Jewish sisters who are busting my balls all the time. That's good.
Q. Given your own well documented troubles, do you look at people like Charlie Sheen and Lindsay Lohan and go, "Amateurs!"
A. I try to not be too judgmental but there's a certain smug satisfaction of being grateful that I already know what they're about to find out, and just thankful that I don't have to ever go to that place ever again. And they have no idea what's waiting for them around the corner, no idea.
Tags:
Social Distortion