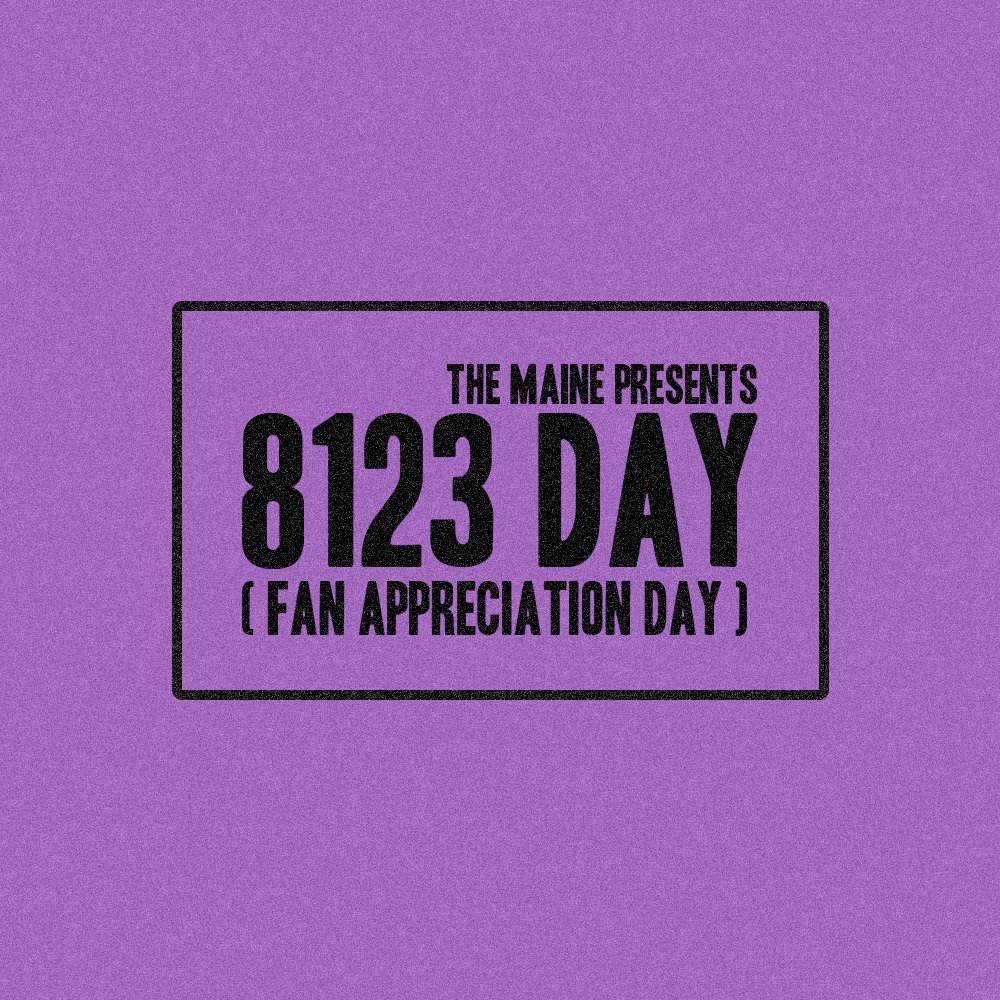 On January 21, 2018, The Maine celebrated eleven years of being a band. Any other band would have sent out a nice social media post, but The Maine isn't like all the other bands. Instead, they dedicated the whole day to us, their fans.
"8123 DAY is a day dedicated to you! We have been a band for 11 years… that's 4,015 days or 96,360 hours. We will never be able to express how much you mean to us or how much we think about you throughout our day. Every decision, every tour, every album, we think about you first. Not a label or outside influencer, just you.

Each and every one of you has made our dream possible. We hope to create many more memories with you in the future but for now… we want to celebrate and have fun sharing some of our favorite memories and shine a little light on the people that really make this possible."
They kicked off the day by announcing a scavenger hunt: Starting at 9am PST, they released new content every hour until 8pm PST (that's eleven hours!) and fans had to pay attention to pick up all the answers to the scavenger hunt questions. The first eleven people to submit their perfect scores were then in the running to win some incredible prizes—from phone calls with the band members to concerts tickets to the grand prize of spending a day with The Maine at The 8123 Studio in Arizona.
The most amazing thing was the amount of time they dedicated to making the scavenger hunt the best it could be. New content included a hot wing challenge, a documentary about last year's 8123 Fest, an open letter that caused many fans to shed a tear (or eleven), a spring headlining tour announcement, and a live chat to end the day.
It's pretty safe to say that there's no other band quite like The Maine. Not only are they a seriously talented bunch of dudes, but they appreciate their fans and always make sure we feel appreciated, and that doesn't go unnoticed. They truly deserve every bit of success and attention they've received over the past decade, and we can't wait to see where the next decade takes them.
Once you're done catching up with all the 8123 Day festivities, make sure you pick up tickets to the Fry Your Brain with The Maine & Friends (The Wrecks and The Technicolors) tour this spring!
4/3 – San Luis Obispo, California – Fremont Theater
4/5 – Portland, Oregon – Hawthorne Theatre
4/6 – Seattle, Washington – El Corazon
4/7 – Spokane, Washington – Knitting Factory
4/8 – Vancouver, BC, Canada – Rio
4/9 – Calgary, AB, Canada – The Den
4/11 – Edmonton, AB, Canada – Starlite
4/14 – Winnipeg, MB, Canada – The Garrick
4/16 – Omaha, Nebraska – Slowdown
4/17 – Des Moines, Iowa – Wooly's
4/18 – Bloomington, Illinois – The Castle Theatre
4/20 – Columbia, Missouri – The Blue Note
4/21 – Columbus, Ohio – Newport Music Hall
4/22 – Morgantown, West Virginia – Mainstage Morgantown
4/24 – Carboro, North Carolina – Cat's Cradle
4/25 – Charlotte, North Carolina – Underground
4/27– Birmingham, Alabama – Workplay
4/28 – Pensacola, Florida – Vinyl Music Hall
4/30 – Tulsa, Oklahoma – Vanguard
5/2 – Albuquerque, New Mexico – Sunshine Theatre
5/3 – Flagstaff, Arizona – The Green Room
Tags:
8123
,
8123 Fest
,
American Candy
,
John O'Callaghan
,
Lovely Little Lonely
,
Modern Nostalgia
,
The Maine