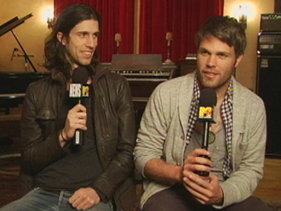 For 3OH!3's album Streets of Gold, out June 29,  it   seeks inspiration from things the members  know a lot about – like partying. But would  one  expect anything else from the "Don't Trust Me" singers?
"Wantdid really well and kept doing better, so we didn't really have time to make a follow-up, " Nathaniel Motte said about the group's breakthrough album. "We finally carved out some time to make this album, which is rad. We were inspired by gold."
The duo also wrote music about  experiencing a  new rock-star lifestyle.
"I think there's a few completely different things on the album," Sean Foreman said. "Some of it's really fun and just about kind of our life on the road and parties. There's some heavier songs too."
But don't think the party-song dudes have left behind the sounds that made them household names. If you hear any new vibes on the album,  the two  say it's just because they have grown as musicians.
"While we were touring, we managed to work in the studio, and I think we've learned so much as songwriters and as producers making music and making tracks," Motte said, adding that this album is a "more developed and more defined album. It's inspired by a lot of stuff."
Some of that stuff includes first love, as evidenced on  its Ke$ha-fied single "First Kiss," and, well, house parties.
"I think we stretched. As much diversity as there was on the last album, we just pulled that and stretched it further," Foreman said. "You get stuff on either end of the spectrum – like 'House Party' is crazy and has the craziest production, and it's just a fun anthem that you'd want to sing with all your friends. And then there's stuff on the other end of it, where it might be a little bit more singing and stuff like that."
Tags:
3OH!3