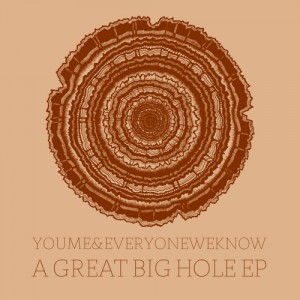 After parting ways with the five former members of You, Me, and Everyone We Know, Ben Liebsch has released the three-song Great Big Hole EP solo under the same band name. The songs, though few in number, bear some of the classic staples of You, Me, and Everyone We Know: witty, sometimes biting lyrics and enough energy to propel the songs firmly into the consciousness of listeners.
The title track, "A Great Big Hole," feels a bit like waking up in the morning with its swelling beginning and glints of hopefulness, mostly embedded in the melodies. On the flip side, the lyrics tend towards the baldly honest. The upbeat tunes contrast starkly with the words' dark shadows ("To get this low / I had to dig a great big hole / Now the only way out cost me everything I know") and it opens a small window into Liebsch's mind regarding the split of the band and recent events in his life. In this manner, it is the cornerstone of the EP because it's so obviously biographical and can best pique the feelings of the listener.
"I'm Alright" packs a more solid punch than the opener; it's the song that would push a live audience from stirring or bobbing heads to thrashing around, limbs flailing, fists victoriously lofted in the air. Again, the material for the EP obviously comes straight from Liebsch's insides – it's riddled with personal proclamations, remembrances and thoughts wrapped up in wordplay and uniquely raw vocals.
Finally, "Coming Up Short" closes the volume with its methodical, percussion-driven feel. In terms of lyrics, it's the most convoluted: it touches on Liebsch's possible substance abuse in the form of bodily descriptions and includes handfuls of short metaphors and similes throughout its entirety.
The three songs together offer bits of explanation to fans and clearly bear intense personal meaning for Liebsch and the identity of You, Me, and Everyone We Know. The EP varies the energy level and lyrical styles enough to remain interesting while touching on serious matters, and never dips too far into either morose or sweet.
Rating: 3.5/5