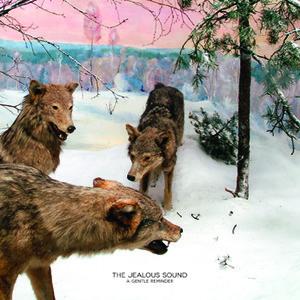 A quick check of the calendar (um, was 2003 really ten years ago?) will reveal that The Jealous Sound's re-release LP A Gentle Reminder marks the band's return to the scene after nearly a decade of lying low. The album lineup consists of Blair Shehan on vocals and guitar, Bob Penn on drums, Nate Mendel (of Foo Fighters/Sunny Day Real Estate fame) on bass and vocals, and Pedro Benito on guitar. Remastered, partially remixed, and featuring four new songs, the album serves as the refocused group's first step in a series of action-packed upcoming months.
"Beautiful Morning" starts off the album reflectively. "We can all change when it's time to change / And I think I know what they're after," Shehan croons as he spins a narrative with his words: an imperfect morning of mishaps contrasted with the gentle lyrical reassurance that everything will, in fact, turn out in the end. It's mid-tempo and lulling until it blends into the heavier backbeat of "Change You," another continuation of the raw themes outlined in the opener. The album tackles some immense topics right off the bat: identity, starting over, and continuing on even when the odds seem to say it'd be easier to give up.
As for energy, the album picks up about halfway when "Equilibrium" and "Perfect Timing" feature more active instrumentation and vocals. The earlier half of the album feels like a resting heart rate: comfortable, unobtrusive. From the beginning chords of "Equilibrium," however, the heart becomes more palpable in its beats and pumps some oxygen into the album just where it's needed. If there's one structural critique of this album, it's that it tends to remain firmly in the mid-tempo range so the tracks are often difficult to distinguish in their relative similarity.
A Gentle Reminder strings together fourteen fairly cohesive tracks into a statement from The Jealous Sound: they're back and they have a new perspective, even on their previously-released music. It's packed with little mantras (like "Everything is turning around" on album closer "Turning Around," ending the record on a positive note) and easy on the ears overall.
Rating: 3.5/5