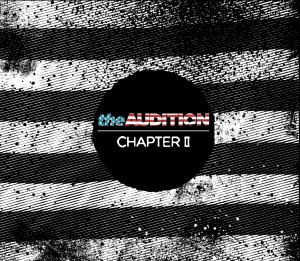 The Audition make a strong statement with their latest release Chapter II, letting the world know with or without a record label, they are a force to be reckoned with. Chapter II is a six-song self-released EP sure to get stuck in your head after the first listen. No longer on Victory Records, the band launched a Kickstarter campaign to fund this EP's recording and release — and it paid off.
Get ready to whip out your best air guitar moves when listening to the album's strong opener, "Who Do You Think You Are." The song is very well put together, with Danny Stevens' vocals complimenting the musical style the band has adapted throughout the years. His voice works perfectly with both their radio tunes and their darker, heavier material; one would be hard pressed to find better vocals to go along with The Audition's music. While you may be unsure about the album's single, "You Make Me Sick" at first, prepare to be hooked by the chorus. The blend of in-your-face lyrics and rock style transition into "Evil," which is true to its name — you won't be able to get it out of your head. The drums blend seamlessly with the rest of the instruments throughout the whole album. They take the backseat when they need to, but shine when the focus is on them.
"Back and Forth" has an abrupt beginning that keeps the energy up. This and the next song on the album "You Gotta Believe" are the most pop-style tracks on Chapter II, combining the best of both rock and pop in typical Audition fashion. The album comes to a well-thought-out end with "Talkin'." This song ensures that the album does not fizzle out but instead holds listeners' attention to the very end. "Talkin'" wraps Chapter II up into a neat little six-song package.
If you were a previous fan of The Audition, this EP won't disappoint you. The album sees the return of original bassist Joe Lussa along with new lead guitarist Jimmy Lopez, and this lineup brings a renewed energy to the table which allows the band's personalities to shine through. With the drive and talent shown on this EP, it won't be a problem for The Audition to continue building their fanbase, whose dedication has already been proven by the Kickstarter campaign that made the release possible. With four full-length albums already under their collective belt, The Audition start off Chapter II of their career with a satisfying bang that will keep longtime fans happy and have new ones begging for more.
Rating: 4.5/5
Click here to buy Chapter II on iTunes.