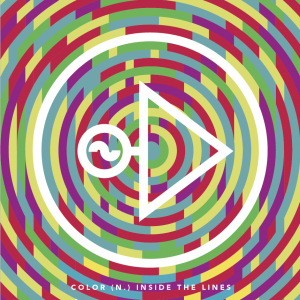 After shocking fans and supporters when his one-month long IndieGoGo campaign raised over $50,000, Mae's former frontman Dave Elkins has independently released his first album Color (n.) Inside The Lines under the name Schematic. His musical debut as a solo artist joins Schematic Records, Schematic Studios, Schematic Management, and Schematic Community in a project founded by Elkins and funded by his IndieGoGo campaign to promote creativity, passion, and growth online and throughout the music industry in both fans and musicians. Schematic shows a musical side of Elkins that fans have yet to see, and while his creative ambition is admirable, one can only hope that his experimentation won't backfire and leave fans confused about where his music is going.
Opening track "Outside" sets the tone for the album with a fun, mellow energy that is perfect for the highly-anticipated positive energy that comes with spring fever. It's a song that should please long-time Mae fans, but adds an experimental edge that sets the bar much higher than Elkins has before. "Senseless Charades" follows suit, showing off Elkins' vocal range while carrying its predecessor's energetic feel through every note. Songs like "Where's The Soul" and "All The Birds Are Singing" add character to the record with their more prominent experimental vibe, making them radically different from anything Mae ever released.
On the other hand, "I Am The Car" and "All Time Quarterback" stand out as personal favorites because of their upbeat positivity and their perfect balance between Mae's traditional sound and Elkin's new alternative-driven riskiness. "You Are My Southern Girl," "Hide and Seek," and "Rampion Rogue" are all uniquely arranged, but have in common a slower pace more simplistic composition, making the listener focus on the lyrical content and Elkins' voice rather than the intricacy of the music in the background. Although this intricacy makes for auditory interest, these few songs make for a nice break in the density of the album and also add even more stylistic diversity to the album as a whole. The album closes with a stripped-down ballad which showcases Elkin's vocal abilities stronger than any track had previously, accompanied by a beautiful arrangement of piano and acoustic guitar. "What It Means" is a perfect concluding track that is bound to steal the heart of any listener, regardless of what you think of Elkin's other new material.
Overall, Color (n.) In The Lines is a solid record that should excite Mae fans and attract some new ones, but by the end it still feels like there's something missing. Separately, the songs are great, and there is something to love about each and every one of them since they all have such a distinctive sound. But they are all so different from one another that at times it becomes difficult to pinpoint exactly what sound Elkins is creating for himself. The record lacks a common thread that should be woven throughout each track to unite them together as an album, rather than eleven individual songs. While Elkins certainly does convey Schematic's message of the importance of creativity and individuality in his debut album, one can only hope that instead of reaching in all different directions, he'll come find an identity for himself so he can develop the musical talent he put forth in this record to its fullest potential.
Rating: 4/5