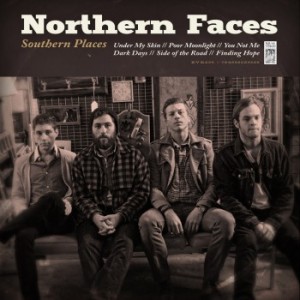 In the words of New York's Northern Faces, "it all started after a few too many drinks and an exchange of words  that should have never happened..but thank god it did." The latest recruits to Equal Vision Records, the band recently released their debut EP Southern Places, a strong effort consisting of five self-produced tunes that spotlight the band's indie rock roots while pulling elements from noise, experimental, and even blues rock.
"Under My Skin" is a mellow album opener that exemplifies the band's authentic sound. It begins with a scratchy, reverb-drenched guitar lick, which builds to a soothing sea of ambient and delayed textures. The strong, confident vocals of Marco Testa punch through the mix with a brilliant timbre that is sensitive and smart. After giving this track a listen, you will find yourself repeating the infectious hook, "Stay under my skin." It's a feel-good song with smooth dynamics and flowing instrumentals.
"Poor Moonlight" reveals a different side of Northern Faces. It has a dark, blues rock tinge, enabled by a haunting organ, a steady down beat, and a scratchy guitar solo. The song stays on virtually one key the entire song but still has great groove and power that keeps things interesting.
Southern Places reaches its climax with "You Not Me." It opens with percussive rim shots on the drum followed by crunchy, sustained guitar chords. The song builds into a big, open refrain of delayed guitars and reverberating sounds that are fairly predictable. Nonetheless, it is a strong, catchy hook that encompasses the album's reflective mood. The song ends on an emotional and powerful note that brings the album to life. There is a creative call and response between the vocals and guitar, followed by a beautiful wall of atmospheric sound.
The latter half of the album seems to lack the same passion and momentum as the first few tracks. "Dark Days" is another haunting bluesy song that reinforces the melancholy tones of "Poor Moonlight." Aside from the tempo change in the chorus, the song seems a bit monotonous. "Side Of the Road" sounds like the love child of The Doors and Pink Floyd – another bluesy song driven by organ and minor pentatonic scales.
"Finding Hope" is the album's obligatory acoustic track and it was surprisingly refreshing. I especially admired the wailing guitar near the end a la Eric Clapton and David Gilmour. This track should end every sad movie made (this is a compliment).
Despite its minor flaws, Southern Places is a good model of what Northern Faces are capable of, proving they are a band to keep a close eye on.
Rating: 4/5