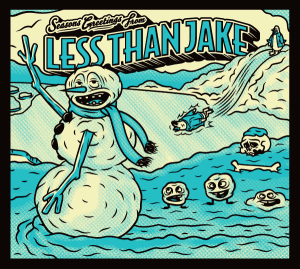 Celebrating their twentieth anniversary this year, Gainesville, Florida-based fathers of ska Less Than Jake have done it again. Over the past two decades, Less Than Jake have stood above the rest with unique vocals, instrumentations, and the ability to make a crowd dance, and they show no signs of slowing down with their latest EP, Seasons Greetings From Less Than Jake. The album is a follow-up to their summer 2011 EP, Greetings from Less Than Jake, with the band releasing both records via their own label, Sleep It Off.
Opener "The New Auld Lang Syne" features a great sing-along to get the EP off to an upbeat start, but there's no depth in the chorus with its repeated chants of, "It goes on and on and on and on." This may lose the listener and lessen the excitement of the album. However fans shouldn't lose hope too quickly — the EP quickly picks itself back up with "Younger Lungs," delivering a brilliant chorus alongside a remarkable trumpet part that will amaze fans. This will be the track fans gravitate to, keep on repeat, and maybe even break out that air guitar for (I know I did)!
Seasons Greetings' momentum continues with "A Return to Headphones," an energetic track primed to become a staple of the band's electric live show. If you've listened to any LTJ record before, you know they love to rep the Sunshine State and their roots, so get ready for the trip down memory lane of "Done and Dusted," full of summers, holidays, and oh yeah — Florida! Despite a less-than-stellar opener, the band ends the EP with "Finer Points of Forgiveness," which is sure to leave you wanting more, particularly if you're a fan of their early records. "Finer Points" recalls the quick drum beats and dynamic vocals of "Liquor Store," a fan favorite of the band's debut album, but Chris Demakes' vocals are decidedly more mature and less raspy than their earlier work.
Overall, Seasons Greetings is a pleasant surprise offering a mature-sounding Less Than Jake that will surely win over the hearts of fans. Although the opening track was not their strongest, there is certainly something for everyone on this EP. If you are looking for a song to make you feel good, dance a little, and scream at the top of your lungs, make sure to check out "Younger Lungs."
Rating: 4/5