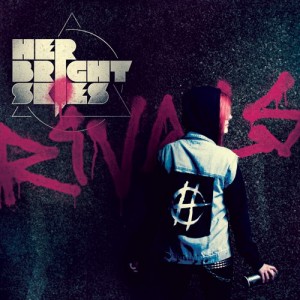 If yet another riled endeavor into the realm of American pop-punk indicates anything about the festering inner desires of an emerging generation, then perhaps we should all start hoarding canned goods and batteries in our basements now to prepare for the impending global revolution. Lost in a never-ending cacophony of American-inspired guitar squeals, hammering drum beats, and amped-up vocals, Rivals, the third release from Swedish-based band Her Bright Skies, is an angsty young adult power piece whose volume is fit for an arena but whose calamitous structure and predictable composition should be left in the garage.
Listeners will easily find themselves in repetitive cognitive limbo with some of the album's select melodies – most notably the opening track "Working Class Punx," the title of which will most likely get stuck in their heads after being passionately bellowed out by lead singer Johan Brolin in his best late-90's punk interpretation. Unfortunately, the majority of the album traps listeners in that same limbo again – but this time, exhausted and frankly bored from the same multi-dynamic formula being blasted into their auditory cortex.
There is a rather tragic reoccurrence in American alternative which has unfortunately spread across the globe and has become horrendously trite. This is the infamous three-step formula of 1) blistering, anxious guitar riffs and violent drums sounding like the roar of Godzilla through the streets of Tokyo which fades into 2) a more simplified dynamic, illuminated only by the partially melodic vocals of a typed-cast emo-fantasy voice before 3) finally coming to a crescendo of a vehement vocal scream in a cappella before the chorus barges in, raging and roaring with violent tendencies. From "Working Class Punx" to "Lovekills" to "Diamonds," more than 3/4ths of Rivals follows this shameful path of predictability, only breaking for a second with the overdone lament of love in "I'll Be For You." This song's softer presence and touching lyrics attempt to careen and seduce their way through the hearts of their fans already thrown into a loud frenzy for street violence and disturbed human relations. The title track and "Debutante" both offer a little breather from American bombast–"Rivals" dips into a chimerical piano rendition in a minor key and "Debutante" teases at the quick, staccato guitar hooks of British alternative before both songs leap and fly off into a rehash of Mayday Parade.
While Her Bright Skies may be using a sound that has become expired, nobody can deny that from the band's native Sweden to Japan to Australia, the power and chord structure of this genre resonates with the international musical community. Between the blood-boiling riffs of guitarist Niclas Sjostedt and the ascending, inspiring legato pipes of Brolin, who effortlessly soars on "Bonnie and Clyde" and "Pain" with a well-placed tempestuous scream similar to that of Bert McCracken, Her Bright Skies has the potential to break the mold of American-inspired pop-punk and give this global genre a new skin.
In the meantime, with lyrics like "No one can break us now, we won't be taken down" which could be shouted from the rooftops to an out-of-whack generation, Brolin, Sjostedt, guitarist Peter Nilsson, bassist Jolle Karlsson and drummer Jonas "Mr.X" Gudmundsson set a consistent target and tone and stay there. And by the end of the album, any listener will have an odd, intense urge to go burn down their neighborhood. If that's all these Swedish rockers were trying to accomplish, then they most definitely succeeded in that. But until they channel that anger into fresh chords and innovative melodies, the true meaning of their music burns itself down.
2.5/5