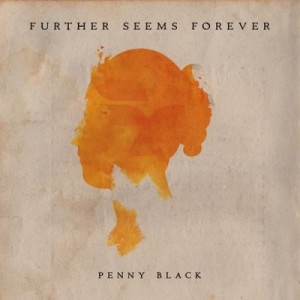 For fans of the Pompano-based emo act Further Seems Forever, the wait is finally over! It has been almost twelve years since the original lineup released The Moon Is Down, and although the wait may have been long, it was worth every second. The 11-track Penny Black is a mature conglomerate of upbeat, heartwarming, and sometimes dark songs.
The album begins with "So Cold," spotlighting the impeccable guitar skills of Joshua Colbert and Nick Dominguez while showing off the high-pitched vocals Chris Carrabba became notorious for with Dashboard Confessional. Drummer Steve Kleisath provides some creativity in the next track "Rescue Trained," where the powerful drum sequence is perfectly matched with the rhythms by bassist Chad Neptune. Skipping to "Staring Down The Sun" listeners are drawn to the harmonized vocal arrangement of Carrabba. This love track screams drama with lyrics like "These days run through each other/Just the thought of you alone makes me suffer/When all I ever really wanted was your love".
Penny Black seems to take a turn with "A System of Symmetry" a haunting track whose simplicity echoes with beauty. The album continues straight into the more melodic title track, giving the album a deserving balance. Kleisath's brilliant drumming once again fills the song with a dramatic rock sound. "Rusted Machines" shows off the album's darker tone for the last time with Carrabba's mysterious vocal cues — "These troubles will bind us and our souls like Rusted Machines". Ending the album is the acoustic "Janie," a beautiful song filled with forgiveness.
Further Seems Forever have understandably matured quite a bit in twelve years. Penny Black is filled with creative and luring themes of love, loneliness, acceptance and appeal. Carrabba's harmonies and the dramatic tone of each instrument make this album one of their best so far. Fans will be intrigued with "So Cold", "Staring Down The Sun" and "Janie" for their unique styles.
Rating: 4/5