"I'm starting to think I've figured it out"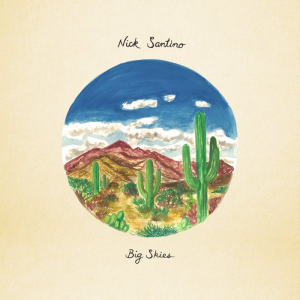 If you were as heartbroken as the rest of us when A Rocket To The Moon called it quits last year, you might be hoping vocalist Nick Santino's new solo direction will fill the gap. The sad news for hardcore fans is it's completely different from the pop punk quartet. The good news is it's so much better. The crooning, clean-cut sound has been replaced with raw, energetic bursts of country-tinged pop rock. And it's clear how much more at home the singer-songwriter is. He's already set the stage by dropping a couple of fantastic EPs, but his debut album, Big Skies, is where he truly takes the spotlight. By the end of the first song you'll have forgotten what made Nick Santino famous–he's rewriting his future through the speakers.
Opening track "Bad Taste" sets the bar incredibly high for the rest of Big Skies–echoing and as vast as a desert sky–when the guitars kick in you'll be soaring far above the ground. Santino has a lot of heart, and there's plenty to go round in the rest of the album. Just take the next song. "Can't Say I Miss You" brings you back to earth, but only so you can stomp your feet to the classic acoustic-led hooks. Santino's country twang adds charm to this pop rock anthem all about moving on.
Deeper into the album, the gospel-esque synths kick in. "Long Way Home" starts off slow and inconspicuous, but those devil-may-care "la da da's" are completely irresistible, making it the perfect jam to clap along to on a sultry summer night. To liven up that vibe, "Mood Ring Eyes" showcases Santino's skills at writing the perfect pop song. There are echoes of The Maine's rock and roll sound, but much more upbeat–Santino's honest enthusiasm is so infectious you can't help but sing along.
When making this album, the Massachusetts songwriter said, "I actually get excited about writing songs. Sometimes I get an idea and I can't wait to get to the closest guitar and work it out." You can tell in every note of Big Skies–Santino is finding his way home. It has the highs and lows of any classic pop rock album, but the endearing country roots show he's ready to expand and refine what A Rocket To The Moon's final album, Wild & Free, explored. You'll hear him falling in love with music all over again, and even the hardest of hearts will fall in love too after hearing Big Skies.
Buy it, Stream it, or Skip it?
Worth every dime. Buy it now!