by Mel N.
10/10 for this ARMY, I FRAPPIN LOVE IT!! EVERY LITTLE THING.
Leading up to the release of BTS' latest album Map of the Soul : Persona, a few members asked ARMY about their day using the hashtag #curiousaboutARMY. And ARMY answered. All of these moments in their fans' lives, the passion and love they sent BTS along this journey are written into these songs and the heart of each member of the group. It is clear that BTS also watches and listens closely to the hearts of their fans.
The title track "Boy with Luv", featuring the amazing Halsey, begins by asking the listener, "How's your day, what makes you Happy?" "Boy with Luv" is such a fun meaningful song that anyone can relate to in today's fast paced world. We learn that it's all of the "little things" that build up to create a greater love.
"Mikrokosmos" showcases their vocals in the most beautiful way. I am truly in love with this one. It's another song written with the love of ARMY in their hearts. "I dream when I look at you" reminds me of the boys standing on the stage at CitiField, their very first stadium concert in the US, and soaking it all in: the love, the moment, what it really meant. It was emotional for everyone and I think we all cried tears of joy and amazement. They shined so bright that night…it was a "Mikrokosmos" evening.
"Make it Right" is definitely a standout track. A collaboration with Ed Sheeran, this one does not disappoint—from the perfect falsettos to the amazing rap lines and everything in between. THIS IS A BOP! They definitely made this right.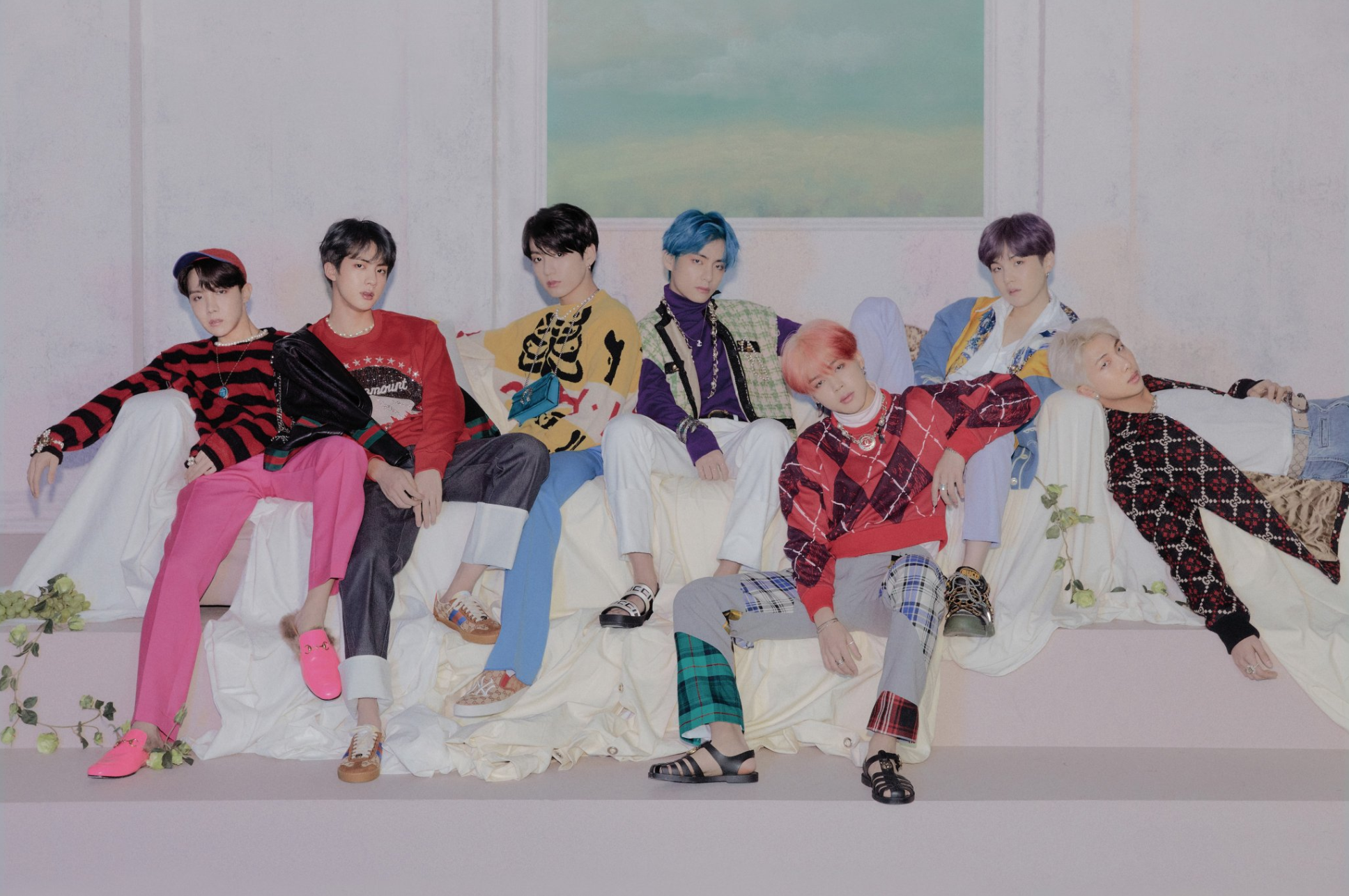 Photo via BigHit
Just like "Magic Shop" was a place for ARMY to seek comfort through BTS, "HOME" is about the comfort these 7 gentlemen receive from ARMY.  When they are tired or lonely they know their fans are there to embrace them with all the love of "HOME" and they in turn "feel rich". You will definitely want to dance around to this one, while thinking about all the beautiful things that make up your "HOME".
"Jamais Vu" is a beautiful ballad featuring the sub-unit of Jin (J-Hope and Jungkook). This really has me thinking about things that I would love to go back and try to remedy. Things may not change but if you had the chance, would you take it? This one is perfect in every way! LOVE IT!
"Dionysus" takes two worlds and encapsulates them into one. It's an incredible hip-hop track where Greek Mythology and the world of Bangtan come together. Intoxicated with their creativity and the art of making music, they speak to ARMY about the responsibility to write about the pain of the generation. You'll surely be car bopping to this one!
I absolutely adore each and every song on this album! Not just because I am a fan but because there is so much meaning and depth behind every album they create. As the story unfolds ARMY continues to be amazed with the level of care and thought that is put into each release.  Diving deep into what makes us who we are… In the "Intro-Persona" RM asks about our PERSONA, and to look deep into the Map of our own Souls to reach a place of self acceptance to be able to Speak Yourself and find your happiness within.
Buy it, Stream it, or Skip it?: Buy it! BTS are "Flying high in the sky…with the two wings" ARMY gave them. With all of that love, devotion, and support (since the beginning) each are now BOYS WITH LUV.