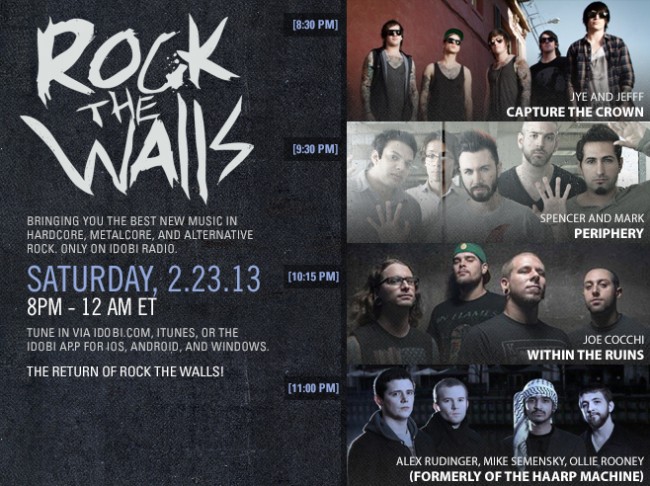 Listen to Rock The Walls with Patrick Walford tonight from 8pm-MidnightET to hear interviews with Capture The Crown, Periphery, Within The Ruins, and Ex-Members of The Haarp Machine (Alex Rudinger, Ollie Rooney, and Mike Semensky).
Jeff and Jye from Capture The Crown are on at 8:30 to talk about the whirlwind year 2012 was for the band, their debut album 'Til Death, All-Stars Tour + more.
Mark and Spencer from Periphery are on at 9:30pmET to chat Periphery II: This Time It's Personal, Video Games, Bandhappy, Producing, and much more.
Joe Cocchi of Within The Ruins is on at 10:15pmET to chat about the band's new album Elite, which is dropping this upcoming Tuesday on EOne Music, upcoming tour plans, the long wait to release the record, and much more.
At 11pmET, Alex Rudinger (now Drummer of The Faceless), Mike Semensky (Vocalist), and Ollie Rooney (Bassist) all formerly of The HAARP Machine are on to talk about the first-half of their only North American Tour, Disclosure, and much more. This interview was conducted prior to the three members leaving/quitting the band.
As well music from bands that announced they'd be on Warped Tour 2013 late last night, and new music from bands such as Bring Me The Horizon, For Today, Northlane, and much more!
Listen to Rock The Walls with Patrick Walford from 8pm-MidnightET via idobi.com, iTunes Radio, or the idobi App for iOS, Android, and Windows mobile devices.
Tags:
Capture The Crown
,
hardcore
,
idobi radio
,
metalcore
,
patrick walford
,
periphery
,
rock the walls
,
The Haarp Machine
,
Within The Ruins