An essay by Chris Barr, from The Eddie Jason & Chris Show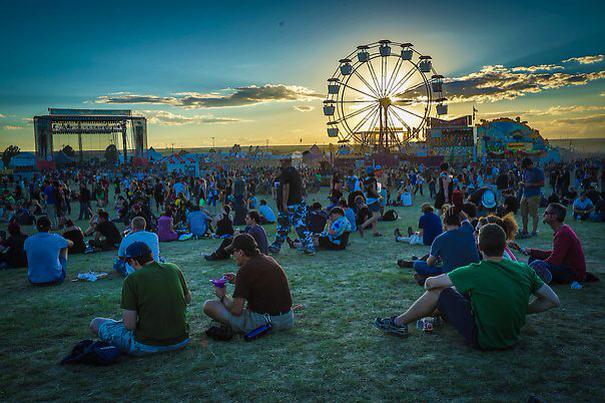 This felt like a significant event, even if it was a minor significant event.
This past Saturday, September 21st, 2013, was the first day of what is sure to become the annual Riot Fest: Denver  music festival, here in the home-town of idobi Radio's Eddie, Jason, and Chris Show.
That evening, as I took in the spectacle of something like 200 people scrambling up onto a stage to cavort with the eternally leathered Iggy Pop, fronting his seminal proto-punk band the Stooges, I had a horrible revelation: The goddamn stage was going to collapse.
Of course, as you could probably guess, especially coming from one of two states to have legalized recreational fun, there was a hint of the unmistakable aroma from the smoke of burning Cannabis Sativa plants, wafting lazily in a thin haze across the roughly 10,000 people standing in the crowd. Since I've never imbibed of the Demon Weed in my life, I was prepared to write-off my premonition as paranoid delusion, especially since no-one around me seemed like they were trying not to freak out about what was unfolding. So I played it cool and enjoyed the scene. Everyone who'd swarmed the stage was having an amazing time.
When I saw roadies come out with squeegees and towels, I realized staff hadn't been worried about a stage collapse. Then I recalled audience members flinging ice from cups onto the stage. It seems the ice melted, causing the stage crew to worry about what they'd missed in high school (from cutting class to go smoke meth) about what happens when you mix standing water with tangles of electrical wiring. Dimly concluding that they'd had a cousin who'd died like that, they played it safe and kicked everyone on the stage out of the venue, including Iggy Pop. The rest of the Stooges played on, with a long, strange coda, as roadies frantically made wiring adjustments, using just their wet towels to insulate their hands. Certain Iggy Pop wasn't coming back, I decided to head on to the next stage to stake out a prime spot for The Replacements prodigious return. As I walked off, the Stooges were still at it.
It was then, in the midst of my chemically fueled aggrandizing, it dawned on me: Riot Fest is a punk rock Woodstock.
The Replacements, Iggy and the Stooges, Black Flag, Bad Religion, Rancid, Blink-182, AFI, Alkaline Trio, Against Me!, Rocket From the Crypt, Naked Raygun, The Potato Pirates: No doubt about it, this was a legendary bench of artists. Sure, Warped Tour has had strong lineups in the past; I just don't think they have ever matched what was brought to bear with Riot Fest. And that was just the list of punk bands. Riot Fest also sported a very strong stable of indie and alternative artists, and one very notable hip-hop act, Public Enemy. AWOLNATION, Airborne Toxic Event, Matt & Kim, Yo la Tengo, DeVotchKa, Brand New, Guided by Voices, Minus the Bear, Superchunk, Best Coast, Breathe Carolina, and New Beat Fund were the more notable non-punk acts to have taken the stage over the weekend in Byers, Colorado, outside Denver.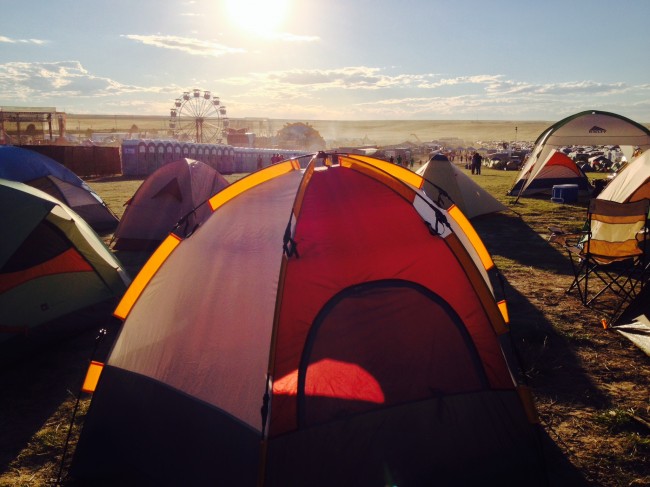 To be fair, I couldn't help but think of Riot Fest in comparison to other legendary festivals, foremost Woodstock, all weekend, but I hadn't let myself actually believe that there were any meaningful similarities. Sure, the lineup was intense, we were on a farm, we camped on-site through the weekend, there was a lot of dirt, Richard Nixon was not in attendance, there was music, but the comparisons were superficial. Then there's the fact that few, if any, self-respecting, self-described punks would seek any comparison to hippy Mecca in the first place. But, I couldn't help but feel that this was more than your average touring festival.
This felt like a significant event, even if it was a minor significant event. The Replacements reunion seems proof enough of that, even if their strong set did devolve from carefully controlled chaos, to a plain old chaotic, anti-climactic encore. I'll let the rest of the bill speak for itself, except to say that Public Enemy, Matt & Kim, Yo la Tengo, Airborne Toxic Event, the unfortunately abbreviated, Keith Morris fronted, Black Flag (now simply referring to themselves as "Flag") set, and the a fore highlighted Iggy and the Stooges set, were also particularly outstanding. That's not to short any of the other acts. The weekend was rife with very strong turns from all the performers. Too bad it wasn't physically possible to see them all, including the middle and bottom bill groups, some of whom could have headlined a lesser festival themselves.
By the time Public Enemy and Yo la Tengo were wrapping up Sunday, at the same time (the fact that they were scheduled at the same time having forced me to divide my time between two stages, as I refused to miss either band in full) the skies were growing dark with gray and black clouds, and a chill rain began to break through the moderate heat of the weekend, taming the frequently blowing grit. "Flag" (Black Flag, to you and me) played a very short, but very enthusiastic and raucous 20 minutes, before the organizers cut-off the amps and speakers, and announced that the grounds were being evacuated for at least half an hour as the rain began to come down with force, lightning flickering in the sky.
People were naturally disappointed, and there was some bitching, but considering Colorado has been up to its ass in flooding the last couple of weeks, and everyone there knew it, no one bitched too loud or too long, especially since we were assured the show would only be delayed until the weather passed, and not canceled. I was skeptical they'd let us back in, but mother nature had us all by the balls, so we got our asses to our cars, since the tents were at the top of a bald hill, exposed to lightning, and the winds were tearing some of them out of the ground.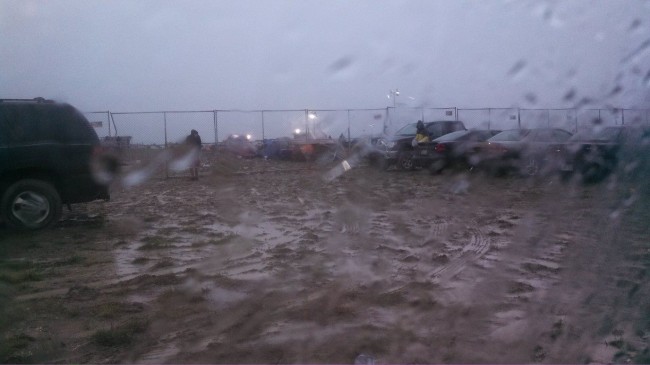 At the main gates, the crowd was building to get back in, but I wasn't sure it was back on. I had to ask several different event staff before I could get a definitive answer: Yes, they were just cleaning up a bit, and would be letting us in momentarily. I took the time to go back and pack-up the rest of my shit before the fuck hit the fan, again. Two hours from the evacuation, I was back after the line had ebbed, and in plenty of time to catch a very fun, very exuberant, kind of raunchy hour with Matt & Kim, whom Eddie, Jason, and I had the pleasure of meeting and interviewing earlier that day.
The next day, I saw on the local news some people got stuck in the mud overnight, and didn't get out until the next day.  All the mud only served to reinforce the Woodstock allusions, in my mind.